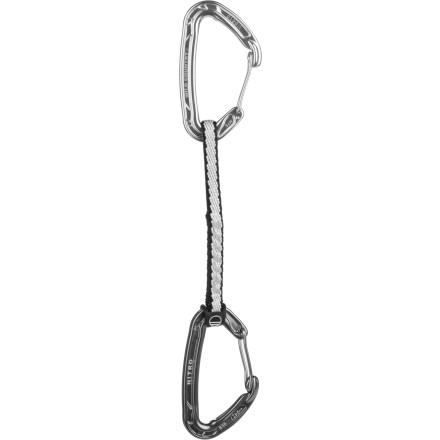 Community Images
At under three ounces, the Wild Country Nitro Quickdraw is one of the lightest full-size quickdraws on the market today. Equipped with two ultralight Nitro Tech Wire biners with no-hook noses and a super-skinny Dyneema dogbone, this quickdraw is ready for any type of climbing whether you're sending sport or multipitching trad.

Hot-forged carabiners with I-beam backs
Tech Wire gate with hooded nose
10mm Dyneema dogbone
Lightweight, perfect for the mtns
Familiarity:

I've used it several times
Get them:
for ice climbing, trad climbing, or gram-shaving on long approaches. The lightweight, full-size biners are easy to handle while wearing gloves and won't way you down on the hike in to your objectives

Don't get them:
as your everyday sport draw. The dogbones can twist a bit (esp in the 15cm length) so you need to pay attention when clipping your rope. Non-keylock noses aren't great if you're cleaning a route, but it's not necessarily a dealbreaker.
Nitro vs. Helium vs. Wild-Wire
Gender:

Female

Familiarity:

I've put it through the wringer
Okay, I really love my Heliums, but I decided to try out the Nitro's and see what differences I might notice. First of all, there's very little difference. The biggest thing for me is the dogbone: I have 10cm Heliums and 15cm Nitros, and I've noticed that the Nitros have a nice, big loop of dyneema on the bolt side of the dogbone. That's nice for me, because if I'm climbing trad, these things will extend out nicely, whereas the 10cm Heliums have no space in the stitching of the dyneema to allow clipping another caribiner into it. Both the Heliums and the Nitros have the rubber on the rope-end of the draw, and it's a little easier to tell which side is up on the Helium's, since one side is red and the other's white. I think I'm going to get more of these though, and in the longer lengths. The longer Wild-Wire also has a nice loop in the stitching for extension, but in just comparing the Nitro to the Wild-Wire, the weight difference is noticeable, and the Wild-Wire doesn't LOOK any stronger, since the dyneema's similar, though slightly wider on the Wild-Wire. The real weight difference is in the caribiner's used.