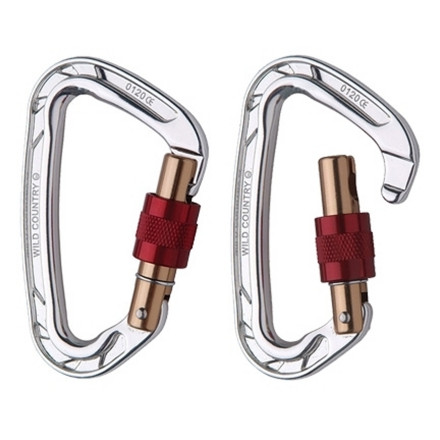 Weighing in at a mere 1.5 ounces, the Wild Country Keylock Screwgate Carabiner gives you the weight savings of an ultralight biner with the security of a locking one. Using I-Beam technology and a smooth, keylock nose, Wild Country built the Neon to perform with the strength and ease of larger lockers without the added heft.
Seriously. Incredibly lightweight, nice action on the locking sleeve, and the nose and top bar are small enough to clip even the most crowded bolt anchor.

I climb with 6-8 of these and use the for every locking job except on my belay device.

Highly recommended.
I prefer the DMM phantom screwgate (41.5/42 g) for 3 (minor) reasons:
- The nose "hooks" on the neon. There is more of a bend in the shape of this part of the carabiner. But the nose on the phantom is a smoother curve so it snags a little less when unclipping bolt anchors and such. This seems to matter more when handling smaller carabiners like the neon than large ones.
- The screwgate on the neon is a little stiffer AND requires more turns to lock and unlock. If you compare it to the screwgate action of say, the Petzl Attache 3D, the difference is very noticeable and starts to annoy.
- When the neon is locked, it looks like it might not be fully locked. The nose protrudes out of the screwgate sleeve more than on most other lockers.

The downside of the phantom is that the gate opening is slightly (1 or 2 mm) smaller. The other option for lightweight locking biners is the CAMP photon screwgate (42 g) which doesn't feel quite as solid and I'm not sold on yet.
I love how light these lockers are. They also have great gate action and I use them for building multi-pitch anchors. They do get a little bit crowded if you throw more than a clove hitch on the biner, so I don't use them as my mother biner. These complement the Petzl Attache 3D quite well for a ultralight anchor setup.
these things are awesome. Just took them out for some TR climbing and they worked great up on the anchor point. So incredibly lightweight though - almost thought they were plastic. Highly recommend these. They're a little small though, perhaps maybe better for an application other than TR anchors.
These are fantastic!. They don't have a lip to hook your rope on so they clip and unclip very easily. They are super light weight and the screw gate action is very smooth. These are my new favorite lockers and they come climbing with me every time. If you like light weight, easy to use, sturdy lockers, then these are the carabiners for you.
Holy crap, a locking, moderately large, keylock carabiner that weights 43g. Blows me away. Bought a bunch, love them. Wild Country is making some really great stuff these days. Pair these with a rack of Heliums...
These are some of the lightest locking Carabiners I've used. Easy to lock/unlock and no lip on the hook to catch the rope make this easy to un-clip as well. You won't be disappointed with these.
This thing is great. I thought it was freakin plastic when i first got it because it is so light! Because of that the metal is a bit soft and i have seen some wear on the inside from clipping to established anchors that are a bit rough. But i love the feel and would recomend this for several applications. But probably look for a larger more durable carabiner for something like a top rope anchor clip etc.

In the picture it is on the left. Petzl William in the center and BD Pistron on right
Great locker. Snappy, light, solid feeling. The opening is just a tad small, but this is the price of light. I own several and use them for just about everything.