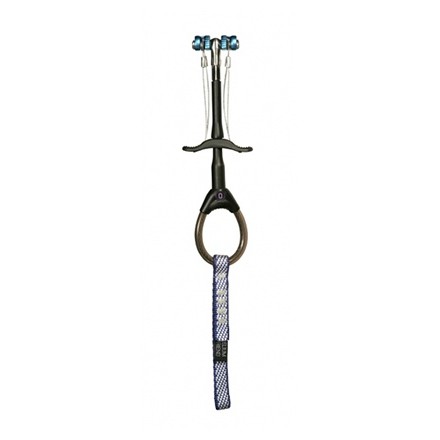 A rackful of Wild Country Helium Friends will make any trad climber feel safe with their unrivaled combination of usability, durability, and versatility. These lightweight Friends feature durable, hot-forged lobes with the original camming angle (13.75??) for maximum versatility in variously sized cracks, and overlapping ranges offer a plenitude of placement options. Its long single stem design keeps each Friend flexible for easy placements, and the smooth trigger makes for easy cleaning. The trigger also features stops and a short termination to help prevent over-camming, and the full-strength stops let the cam act as a stopper when opened completely. Wild Country added a durable Dyneema sling to the back for convenience, and anodized each cam with a different color for simple organization.
Hot-forged lobes with original 13.75?? camming angle
Single stem and single axle designs
Smooth trigger with stops and short termination
Full-strength cam stops
12mm Dyneema sling
works as well as the c4s
Familiarity:

I've put it through the wringer
I have used my friends rack (0.5 - 4) for about a year now. solid construction, no major complain. for people who are debating between c4 and friends rack, i think a couple things need to be noted

1) for the same range (~16mm to ~100mm), friends has 8 cams (#0.5 - #4), while BD has 7 (#0.4 - #4). friend has lighter weight per cam, but you are carrying one more, but you can also use that one more

2) it does need a bit lubricating once in a while, more often than BD.

3) coloring scheme does not work. Instead I actually look at the cam size and decide which one. not a big deal. but if this gets fixed, I would give the product a 5 star.
Wild Country has provided some basic instructions for placing and cleaning your 'friends'.



Good info!
Product info from our friends over at Wild Country.

See how they are designed and built!
Great Cam!
Familiarity:

I've put it through the wringer
I've used these for about two years. Plenty of falls on plenty of types of rock. Always bomber. Never on sandstone however. No reason just not a lot of sandstone where I live. Granite, limestone, basalt, tuft, choss...always holds even when the rock doesn't.