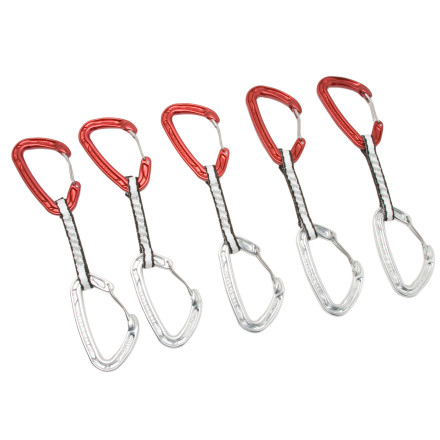 Detail Images

Community Images
Description
Stop weighing yourself down and rack up with the Wild Country Helium Quickdraw before you cast off on your next long route.
Trying to lighten your rack for a multi-pitch climb? Replace your standard draws with the 2.5-ounce Wild Country Helium 10cm Quickdraw. With a wire gate carabiner on each end and a durable Dyneema sling, this Wild Country quickdraw attacks any long sport or trad climb you attempt. The Helium Quickdraw also makes a solid choice for ice climbing, mixed climbing, and even technical alpine climbing.
Share your thoughts
What do you think of the
Wild Country
Helium 10cm Quickdraw - 5 Pack
? Share a...
Best biners out there
Familiarity:

I've put it through the wringer
I suppose I'm really reviewing the biners. They are the best - excellent shape, size, gate spring and weight. I'm a trad climber and nothing is more annoying to me than being in an awkward sketchy position and having the sling (or my sleeve!) catch on those horrible notched biners. These slide right over and clip exactly where you want them to. Well worth the money.

On the dogbone - I have used them as sport draws a few times and I agree with the previous viewer who mentioned that they are better on dyneema slings. But then, we're both trad climbers.
great stuff
Familiarity:

I've used it several times
have tried these two times aldrende, comfortably made. and they look Cool
What about the Helium 2012 recall??? Is...
What about the Helium 2012 recall??? Is it solved? Are this biners the same batch as the recalled ones, if so you should not be selling it...
http://www.wildcountry.co.uk/download/files/Helium_recall_2012/Wild_Country_Helium_Recall_FAQs_10_10_2012.pdf
MAG-T2, MMF-T2, MAH-T2, MAJ-T2, MAK-T2, MMG-T2, MMH-T2, MMJ-T2, MMK-T2 are the batch codes reported by Wild Country, and can be found on the spine of the carabiner. Your link is broken or doesn't re-direct correctly. I agree that it would be irresponsible for Backcountry to sell carabiners that match these batch numbers, but believe fervently that this issue has been vetted. Nonetheless, I included the batch numbers so anyone who purchases these can easily reference them here. Cheers!
Best All-around Draw/Biner Out There
This is the best all-around draw and biner for trad and sport out there. Are they expensive? Yes, but it is difficult to make a biner with all of these advantages. Super strong, super light, and clean nose. The only reason you might want a different biner is if you want a smaller biner for some reason.
Best Alpine Biner
Gender:

Male

Familiarity:

I've put it through the wringer
These are my absolute favorite biners for alpine quickdraws. I have tried them with the short dogbones that they ship with and, in my opinion, that is not their best use. I throw those dogbones in a box and replace them with 24" dyneema slings. My trad rack now consists solely of these draws and I couldn't be happier. Full gate opening, no nose to catch and lightweight. What more could you ask for? Worth the price.
Best fullsize lightweight draw out there
These are awesome. They are full size and while not as light as the camp or dmm ultralight biners, they're lighter than any other full size draw with a snag free nose.
The ultimate lightweight quickdraw
For the weight, you cannot find a better draw. A draw with FULL SIZE carabiners for a mere 2.6 ounces! I won't repeat another raving review on how good the Wild Country Helium carabiners are. If you plan to climb for life, the cost is justified. There are lighter draws out there, but none using a full-size full-strength 'biner. If you want a set of high quality Helium carabiners, it makes sense to buy a set of these quickdraws and essentially get the dogbones for free.

The dogbone tends to twist because it is so narrow and backclipping becomes an issue. One star off for this, but it's a byproduct of trying to shave every bit of weight off this thing. I also own 20cm Helium draws, and the longer dogbone almost guarantees twisting. You could replace them with a Petzl Express dogbone at a minimal weight penalty. It's the amazing Helium 'biner which makes this quickdraw so great. Sorry, Petzl Spirit -- you are not the best.
there's something wrong with the price /...
there's something wrong with the price / #
Best Answer
No, they are just really expensive. The Helium quickdraws are $25.00 each so that makes the price right on target for a set of 5.
If your looking for a reliable light high end quickdraw go for the Heliums! Great clipping, light and the gate locks so much more reliable than on other lightweight draws! Def my favorite choice!
Super light, no nose hook to catch the anchor or the rope, perfectly tensioned wire gate. Yes the thin dog bone does get twisty but I do not see this as a bad thing at all.
I had gotten one of these a while back because it was the same price for 1 draw as 2 biners.
I really dislike the webbing. It is much more floppy than a normal (nylon) draw material and twists around quite a bit. I prefer to clip a tripled 60cm sling than this.
Biners are great though.
If you are just sport climbing I don't see a real reason not to just get a less limp wider draw.
Does this draw have a rubber isolator on...
Does this draw have a rubber isolator on either side of the dogbone to keep the biner from rotating? The pics don't show it one one side, but I can't get a good look at the other.
As far as i know they don't. The end with the tag is bartacked super tight though, so you shouldn't have the rope biner flipping over or anything. The silver biner might rotate, but the red one will not.
On the ones I recently purchased there is a rubber isolator on the red carabiner. It is very similar to the isolator on the black diamond quickdraws with dyneema slings.
one of my rubbers isolators broke, when they were still brand new, and I was using them in warm temperatures, and yes, they are only on the red ends.
Super lightweight. Strong (Open gate strength = 9kN). Wire gates that don't snag (Clean-Wire design). What's not to love?
These things are amazing. Not only are they the lighest things out there they are also no snag. The keylocking feature is priceless. I wish someone would make oval keylock biners. I have a few oval wire biners left for my gear and everything snags on. I hate them. Do yourself the favor and get all keylocking gear. It's a lot safer if your barely holding onto the wall and you aren't dealing with a quickdraw snagged on your shirt.
I tried them all and for the weight and size these are the best. Easy to clip. Great design.
What does this draws make of? Don't think...
What does this draws make of? Don't think its aluminium..
Best Answer
Despite the misleading name, this draw is in fact made from aluminum. In fact, a significant majority of climbing gear these days is made from aluminum. I would even go so far as to say that there is no quickdraw on the market today from any company that is NOT made from aluminum. Hope this helps.