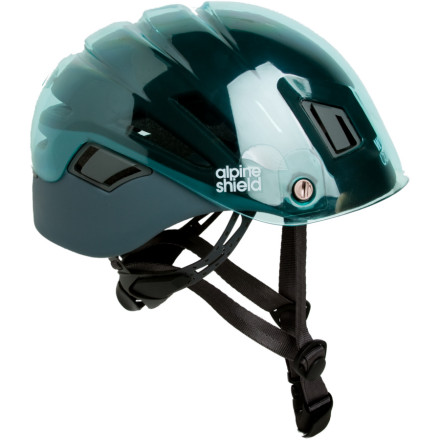 Detail Images
In the alpine, razor-sharp ice shards can rain down on your head at any moment???be ready with the Wild Country Alpine Shield Climbing Helmet. On a fair-weather climb, the light EPS helmet is cool and comfortable, and when you reach higher into more dangerous terrain, the Alpine Shield cover screws onto the helmet and adds a tough layer that ice and rock-fall won???t penetrate.
Quik-Clik, glove-friendly adjustability so you can tighten the Alpine Climb on the fly
EVA-cushioned inner pads are adjustable and comfortable in hot and cold weather
Four torch grips secure your headlamp so you can get a head-start on the summit before dawn
Fits conveniently under jacket hoods
Comes with screw adjustment tool
I bought the Alpine Shield helmet primarily for rock but it's perfect for my occasional ventures onto ice too.

I like how light it is. It can be adjusted for a snug fit, which i prefer. Other reviews mentioned straps that rub but I found no such problems.

The helmet does ride slightly high, maybe just above the temple. A little lower would give more side protection, at the expense of weight.

Overall, a great helmet.
what other helmet would you say fits most...
what other helmet would you say fits most like this helmet?
The wild country rock lite has a similar fit
what is the weight with the shield on...
what is the weight with the shield on please?
The weight of the helmet with the shield is 420g/14.81oz, the weight of the helmet without the shield is 260g/9.12oz
Liked it but didn't fit well
Good:
Nice modular concept, quality looks good though I never used it (will be returning it). Straps and adjustment seemed fine.

Bad:
Sat high on my head (obvious just by looking), leaving the sides and back of my head more exposed than I was hoping. I tried on the Petzl Meteor III for comparison and it had better coverage on the sides/back and even looked like a better fit. I did not compare to the BD Tracer. Probably depends on head shape.
Ordered this based on generally glowing reviews, but it's going back after only trying it on at home. There's a liner (Coolmax?) that the straps go through; I feel the front straps are uncomfortably close together and where they come through the liner, there's a little edge overlap. This overlap in the liner irritated my forehead very quickly; couldn't imagine wearing it for any length of time. Also can't see wearing it over a beanie (not enough room), and I have an medium-sized head. Helmet sits higher on my head than most, for what that's worth.
After three months of using the helmet I noticed that the side strap was breaking. The quick-adjust slides in the back broke off within a month of weekend usage making it difficult to move back and forth for sizing with a hat on beneath the helmet. The fit and the flexibility for ice climbing were big pluses, but this will be going back to the manufacturer. Three months of occasional use is far too short of a lifespan for the cost. Sadly, I would recommend taking a pass on this equipment.
Awesome...with a minor drawback
The helmet itself it amazing. It's light, it's comfortable I LOVE it. However, when you add the shield it becomes really bulky. I've whacked my head more with the helmet on then I ever did without the helmet.

I really like the extra protection the helmet provides, but it does make it a little less comfortable, causes me to bump into things, and stick in cracks.
While perhaps not as well known as Petzl or Black Diamond, this helmet by Wild Country (a respected name in climbing gear from Great Britain) is perfect. Most often with a hybrid of anything you get a product that does neither job well. Not here. You get a lightweight and well ventilated helmet for rock climbing that converts to a solid mountaineering helmet in minutes. The transparent acrylic cover is solid, and is held in place with stainless screws that tighten with a small coin or the included tool. The built in clips hold my Petzl headlamp right where I need it. You can spend more money to wear a Petzl helmet that matches everyone else, but why not get the same quality and protection in a classier looking lid?