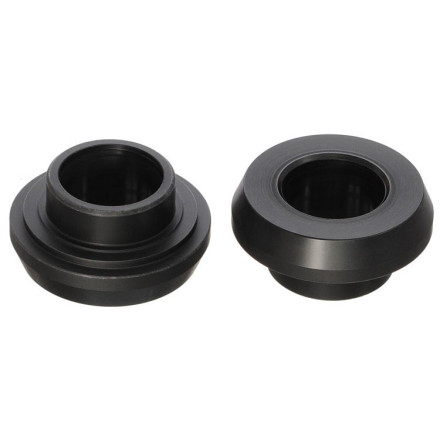 Description
BB30 conversion made easy.
Providing added stiffness and weight savings, the BB30 system is offered on a small, but increasing number of race-worthy road frames. The problem lies in compatibility with Shimano's popular cranks, such as Ultegra and Dura-Ace. That's where the Wheels Mfg BB30 Adapter For Shimano comes into play. This nifty solution fits Shimano road cranks to BB30-equipped frames, thanks to its two reducer sleeves that precisely press into the BB30's bearings for wiggle and creak-free performance. Please note that this adapter works with all Shimano and Shimano-compatible road cranks with a 24-millimeter spindle.
BB30 adapter for Shimano road cranks with external bearing cups and 24mm spindle
Unanswered Question
Hi Guys, just making my listing for the ideal Triathlon bike. I'm planning on getting a 2015 BMC Timemachine TM01 frameset. It says that BB must be a 30. Will it work if I buy a Ultegra 6800 BBR60 and place this adapters?
Better options available
Gender:

Male

Familiarity:

I've used it several times
These adapters are easy to install and they get the job done. I installed a Shimano Dura Ace FC-9000 crankset (hollowtech II) into my specialized tarmac which has OSBB (which is essentially the same as PF30/BB30). My frame required one of the thicker spacers in order for the 39t chainring to clear the rear chainstay.
Was great for a couple rides, but then there was creaking. I talked to my Specialized guy and it turns out they make a part just for this sort of thing, and it is made of aluminum. WAY BETTER. super easy to install (tip: put them in the freezer first so they slide in easy to your bearings) and they fit perfectly without spacers and having ridden a few times there are no squeeks, AND they were cheaper.
hth
photo is of the specialized part
I have a bb68 English thread frame but purchased a bb30 SRAM red crank. Will this product make the two compatible?
Unfortunately, you can not adapt a threaded frame to work with a press fit system. The bearings for a BB30 are larger than the frame you have. You will need the SRAM GXP style to work. Feel free to reach out to me at extension 4769 if you have any questions about compatibility
Works perfectly. Easy to fit.
Familiarity:

I've put it through the wringer
Upgraded the groupset on my Cannondale Supersix to Ultegra 6800. 5 months and 3000 km later it's still perfect - no lateral movement and no creaks.
Unanswered Question
I Have a new Cervelo P2 11 SPD and I bought an Ultegra 6800 crankset and a SM-BBR60 Bottom Bracket to upgrade the group (the bike comes with a FSA PF-30 Botton Bracket and a FSA Gossamer BBright™ 52/36 crankset). Can I use this adapter to fit the Ultegra group?
Well made
Familiarity:

I've put it through the wringer
Put together a BB30 frame and used a Shimano Ultegra crank - Standard press fit BB30 bearings were installed as recommended, then these two parts just fit perfectly into the bearings. I was amazed that these work so well, and even when cranking out some torque; no creaks, squeaks, or looseness. Great product.
I'm not totally familiar with all the...
I'm not totally familiar with all the standards, are SRAM/GXP cranks (which also have 24mm spindles) compatible with this adapter? Right now my frame has an adapter for threaded 68mm shells (to then add a standard GXP BB to it), but it seems unnecessary if this will work with my SRAM Red GXP crankset and BB30 bottom bracket.
Best Answer
Should work on a BB30 frame - it's a super easy install.