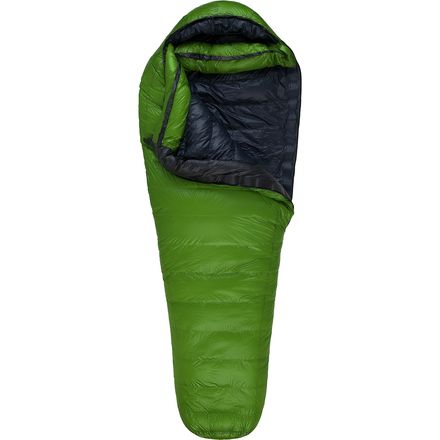 Community Images
Description
Meticulous craftsmanship and thoughtful design make all the difference.
Sporting a full draft collar, premium 850-fill goose down, and highly breathable shell fabric, the astonishingly light Western Mountaineering Versalite 10-Degree Down Bag is ideal for three-season trekking, kayaking, and bike-touring. Celery-eating, high-alpine climbers looking to shed a few pounds will appreciate its unmatched warmth-to-weight ratio, and mountaineers looking to push the limits of their shoulder-season gear can glean a bit more insulation from layers thanks to a wider shoulder circumference.
Highly breathable, water-resistant Pertex shell protects the down insulation from frost, condensation, and spindrift
Ultra-premium 850-fill down insulation retains your body's warmth and provides a higher warmth-to-weight ratio than any synthetic-fill insulation
Interlocking draft tubes and a down-filled collar prevent energy-sucking drafts from zapping your slumber
Wider shoulder girth allows for extra layering in brutally cold environments
Western Mountaineering bags are made in the USA
Used once but seems great
Very lightweight and much more
I'm a woman and my toes tend to get extra cold in bags that aren't women-specific. I've heard it's possible to send Western Mountaineering bags back to their factory and they can pump a little extra down into the feet and hips for better comfort for women, is this true?
Best Answer
Hey Megan,



Western Mountaineering will pump extra down into their bags, but you would have to send the bag to them to get it done. What are you planning to use the sleeping bag for? If you tend to run cold then I would recommend checking out the Antelope GWS Sleeping Bag (Item # WES0035) which will be a bit warmer. Feel free to shoot me any additional questions directly.



Kyle

Expert Gearhead

klivingston@backcountry.com

801-736-4337
Hey Megan, Western can do a "foot box overfill" for sure. It's a special order. The thought to go to the Antelope is a good one, and you can get that in a 5'6" too!



Enjoy!



Leta

Western Mountaineering Rep
I spent a long time reviewing tons and tons of bags to find the perfect long time bag and chose Western Mountaineering as my ultimate choice.

Lightweight and Warm as heck-what more do you need? I live in WA state and was wanting a good late summer-winter bag that was warm but something I can not be boiling in. For winter nights I add a silk liner and down pants and jacket if it's really nippy. I love this bag as many others do too-just buy it. You'll agree too.

5ft4 I bought the 5ft6 bag. Did I mention the extra panel of fluff around the neck area!? Just the best purchase.


One of the best 10* bags out there
Familiarity:

I've put it through the wringer
There's only one other company I know of that makes a 10* bag in this weight, and their boutique, expensive, and it's a quilt anyway.

Fantastic bag that will last you a lifetime.
Wow.
Familiarity:

I've used it once or twice and have initial impressions
I did a backpacking trip in the Sierras in August. it got down to 35 degrees. I had just bought a brand new Mountain Hardwear Phantom 15. I was freezing.

So, I returned that bag and decided to fork over the money for a top of the line bag. I ultimately went with the versalite.

When I placed the versalite next to the phantom 15 to compare the loft, it was like night and day. The versalite was soooo much loftier than the phantom 15. Since there is only a 5 degree rating difference, I guess that means one of 2 things:

1. My versalite is going to be way warm, more than 10 degrees.

or

2. My phantom was really a 30 degree bag.

I think its probably a little bit of both as I have read the western mountaineering bags tend to be true to their temp rating or slightly warmer.

Either way I love this bag and cant wait to try it out. I have complete confidence Ill be warm in it.

It also comes in 2 ounces lighter than my phantom.

Here are the only minor gripes:

1. The fabric is super light and I think it feels very robust and durable, but its a little more plasticy feeling than the phantom. The materials on the phantom were incredible and very soft. I dont think it will be an issue whatsoever as Ill use a lining or wear synthetic underwear and it is very cozy. minor detail.

2. Lastly, I will give mountain hardwear props on their hood design as that hood was amazing and their neck collar which is very cozy. The versalite hood is beefy and very well filled but seems like a very simple, basic design. Im sure it will do the job though.

I highly recommend this bag.

Hello,

I am just under 6 feet (71 inches tall) and weight 190lbs. I would say I am average build for a guy and am torn between the versatile and the ultra light as far as fit. I want room to move, while not giving up heat. My only concern is that the versatile would be too warm for me as I tend to be a warmer sleeper.
Trevor,



What conditions do you intend to use the sleeping bag in?



I've sent you an email as well.



Shoot me an email anytime you have questions!



Jared D.

Expert Gearhead

801.736.4336

jdowns@backcountry.com
3 season trips mostly. I am going on a Winds River trip in Wyoming at the beginning of Sep and this was my main reason for getting a new bag. I really want to get the Alpinlite bag but they are not in stuck and not sure if they will be in time for me to order one before I leave.
Trevor,



Go ahead and email me at jdowns@backcountry.com and I'll reach out and figure out what the status is on the Alpinlite for you.





Jared D.

Expert Gearhead

801.736.4336

jdowns@backcountry.com


Sent. Thank you for your help
Excellent Bag
Gender:

Male

Familiarity:

I've used it several times
I have had this bag for 2 years now. I have used it from 0 degrees up to about 40 degrees. This is a super versatile bag, for its weight it really helps me through the shoulder seasons up here in New England. For me, the lowest I will go is 0 degrees with it. This is very impressive because most bags get chilly when approaching the temp rating. This past winter I slept in the back yard in a tent on a windy night where the temp was hovering around 0 degrees. I slept on my Thermarest Neoair Xtherm and used a Sea to Summit bag liner. I was perfectly comfy. I had on a wool beanie, mid weight base layers and heavy weight socks. I slept perfectly fine. Another occasion I was sleeping in a cabin in Maine during a snow shoe trip. It was in the negative single digits outside so I volunteered to stay in the room furthest from the wood stove. I slept so comfy! I woke up to a frozen solid nalgene beside me so it was at most 32 degrees. This bag is perfect for people who sleep cold during 3 season use or for people who need a light bag that will take them from early spring through late fall with ease. At 2lbs and its reasonably small packed size, its a deal. Quality bag you will have for many years.
Looking to pick this bag up in the 5'6" size. Any thoughts on when the next order will be?
Phalyn,



We currently have the right zip version of the 5'6'' length in stock. Is this the zipper side you're looking for?



Shoot me an email anytime you have questions!



Jared D.

Expert Gearhead

801.736.4336

jdowns@backcountry.com
Love at first sleep
Familiarity:

I've put it through the wringer
I have used this bag for 10 months now and am so happy with it. It is super light and provides a tremendous amount of warmth. It doesn't pack up super small, but the weight savings more than make up for that. I have used it in relatively damp conditions without any serious moisture being soaked into the shell material. I have the regular length and have more than enough room to fit my boot liners and layers in the bag with me on super cold nights in the alpine. <br ></article><br />I have a Montbell and a Marmot bag that I have used for years and honestly I really like both of them. However the quality and comfort of this bag is really in another league. Western Mountaineering bags are not cheap, but with the proper care it will be the only bag you need for the next decade. <br /><br />If you have questions on this bag or any other bag contact me and I would be happy to chat with you.<br /><br /><br />Dan Gates<br />Expert Gearhead<br />801.746.7582<br />dgates@backcountry.com<br /><br />
Does this bag have the green material on bottom also or black on bottom?
Hey there, Leta here from Western Mountaineering. The Versalite has a green bottom on the bag. Hope this was helpful!

Leta
It doesn't get any better
Familiarity:

I've used it several times
Fantastic bag. The continuous baffles allow you to shift down around (if it's cold, move it all on top of the bag. If it's a warm night, shift it underneath you for extra padding, for less insulation). Super light, super small, and extremely well built. Fantastic bag.
I own this bag and planing a winter backcountry trip. Temps are going to be around -5F and I wonder if Reactor liner of claimed 20F added comfort will be suffice. Should I get some VBL? Thank you!
Best Answer
At those temps, with this bag, I'd take three approaches, and in neither case would I rely on a bag liner:



1) I'd plan to wear some insulating clothing to bed... more than a baselayer.



2) I'd pay particular attention to what's under me. I recommend heavy mil plastic for vapor barrier, then a layer of reflectex (but it at home depot), and then an insulating mattress of some type (either close cell foam or something like a Thermarest X-therm).



3) If I could, I'd avoid sleeping in a tent and instead I'd build a debris hut or quinzee insulated with snow. You'll get about 15-25 degrees of warmth out of a proper snow shelter.



As for VBLs I have no experience with them, but I think there's a reason why they are so rare. If they work, and you're warm, all's well. If they don't work, you're wet... and that can lead to a very bad place very quickly.



One "backup plan" that I often keep in mind is a couple mylar blankets. Very light insurance policy. If I experience temps way colder than I planned for, I will cover my sleeping bag with a mylar blanket; this means that my bag will be damp by the morning though, so I do it only when I am confident I will have a chance to dry out (or bug out).
Be careful about closely parsing temperature ratings. I have had this bag for three years. It is a high quality item, it packs small and it lofts very high. I sleep cold and I start to get uncomfortable in this bag at 25 degrees even when I wear my puffy and long underwear. For me, and this is just me, I would wear my down pants and heavier down jacket not my puffy, and make sure the pad R-value was high, to take this bag into -5 degrees. Main point, even though the consensus is the Western Mountaineering gives "honest" ratings, those ratings are only a helpful baseline, but you still need to know how warm and cold you sleep. And when you look at less reliable manufacturers who make similar claims of warmth with less fill weight and inferior down, it gets even more risky trusting what you read.
Whether or not a bag will keep you warm to a specific temperature is extremely subjective. We all work differently. That all said, if you plan properly you may not be super comfy at those temps but you will not freeze either. My system would be the SOL sport utility blanket on the ground. This adds a vapor barrier and provides heat reflection like a space blanket. Than I use an insulated pad, think Thermarest Neoair Xtherm. Bag liners do not add that much warmth. For the weight of the Reactor liner I would rather have lightly insulated booties or a jacket. Wear a wool beanie, gloves and sock along with something extra on your core and feet. Like I said, its personal but you will certainly not be in any danger with that system. Ps, I have this bag and sleep comfy down to 0ish degrees providing I am well hydrated and fed before bed. I'm 5'10 215lbs.
Great quality.
Familiarity:

I've used it once or twice and have initial impressions
A down bag with a real temp rating. Light, comfortable, and great fit.
Whole JMT with this awesome bag
Familiarity:

I've put it through the wringer
the good - silly light, so comfy, fitted 5'6'' size for short people like me.



the bad - being on the warm side for a 10deg, this bag can be too warm for some in the summer months. It's also not quite warm enough for a full-on winter bag.



the ugly - there is no ugly with the Versalite
Great for Women
Familiarity:

I've used it once or twice and have initial impressions
This bag works great for women and keeps me nice and warm. It's got plenty of room in the hip and knee area so I can wiggle around. It tightens down nicely around my head and shoulders when it gets cold blocking all air from getting in. I'm 5'4" and got the short size.
Good enough for Kili!
Familiarity:

I've used it several times
If it's good enough for Kili, it's good enough for me! It was 7 degrees at the summit, but warm and toasty the night before. Also very comfortable. We used liners that may have added a few degrees, but my old sleeping bag is definitely going to Goodwill now!
Hello from Spain. After being focused on...
Hello from Spain. After being focused on a couple of european brands, I have learned bout WM bags. Looks like this is a serious option as far as Weight to warmth ratio is concerned and also in terms of quality and I am really thinking of buying it on my next trip to the US. The only concern being the outer shell, as I live in an island and high moisture is always present at night, which shows on the sleeping bag in the morning... Any comments about it? Thanks.
Hey Jaime,

This bag uses a Pertex shell material, which is highly water resistant even though there is no membrane on the shell material. Pertex essentially uses a thinner synthetic fiber and are able to get a tighter weave which allows the bag to repel moisture while staying breathable. I've seen the WM sales rep pour a glass of water onto their bags and try to rub it into the shell. When turned over the water just ran off the side of the bag.
Amazing and truly versatile
Gender:

Male

Familiarity:

I've put it through the wringer
What's not to like about this bag? Light, versatile, warm, and packs small! The Pertex Quantum fabric used as the face fabric allows the reduction of weight and packed volume in this 2 pound dreambag. The zipper never snags on me!



I actually wish Western Mountaineering would make the same spec'ed bag in Microfiber fabric. It would probably only weigh one or two ounces more, but the amazing water resistant properties of the MF fabric are worth the upgrade over Pertex Quantum. You won't regret this purchase if you're looking for a lifetime investment in a light 3-season bag.


Western Mountaineering does it again!!!
Familiarity:

I've used it several times
This is possibly the best sleeping bag ever. I have used it many many times in weather ranging from 30 degrees to 5 degrees and have never been cold and I am a very cold sleeper. In addition to the warmth the bag is also quite light so I have never had weight issues with it. It also fits nice and small into a stuff sack so it doesn't take up a lot of room



WM is also a fantastic company. My Fiance ripped his sleeping bag and they fixed it so well you can hardly tell where the rip was. Sometimes we wonder if they just sent him a new bag.
In Love With This Bag
Familiarity:

I've used it once or twice and have initial impressions
I've always had issues staying warm while camping, even on early summer trips. I have a 30 degree synthetic bag that did not keep me warm in June OR October. So, when I decided to go backpacking in November in the Red River Gorge I knew I needed a better bag. This one is perfect. It fits in the bottom of my pack and kept me warm and toasty all night long. I highly recommend it.