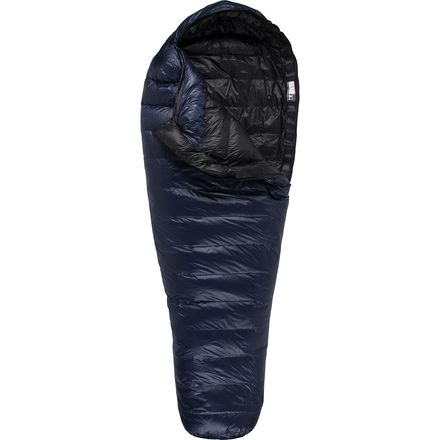 Description
Not just lite; MegaLite.
Western Mountaineering gave the MegaLite Sleeping Bag a roomy cut for those who want an ultralight bag without the coffin-like feeling. This down bag features insanely lightweight 850-fill goose down and will lull you to sleep on your warm summer backpacking trips and multi-day bike excursions. The bag's continuous baffle system let you sweep the down to the top or bottom of the bag to suit the night's temps, and the full-length draft tube keeps the chills from sneaking in.
Ultra-premium, 850-fill down insulation to retain your body's warmth and maintain a super-high warmth-to-weight ratio
Ultra breathable, packable, high-thread-count ExtremeLite shell fabric encases the insulation without adding unnecessary weight
Water-resistant coating protects the down insulation from frost, condensation, and spin drift
Continuous baffle system ensures unimpeded loft and and zero cold spots
Slightly wider shoulder and waist circumferences ensure a comfortable night sleep
Full-length, #5 YKK coil zipper stands up to years of use
Western Mountaineering bags are made in the USA
Best Sleeping Bag Brand, Period!
Familiarity:

I've put it through the wringer
I have owned my Megalite for 10 years. It is the best piece of camping equipment I own. It is incredibly light, packs to the size of a cantaloupe and is even better than advertised from a temperature rating standpoint. This summer I sold mine to a friend and purchase another one right away.
Is there a way to attach it to my sleeping pad?
At night I always turn around and find myself off the pad
Best Answer
Hey Tom,



Unfortunately this sleeping bag does not have a way to attach a sleeping pad. I would recommend checking out the Therm-a-Rest ProLite 4 Sleeping Pad (CAS003Z). It features a sticky-dot non-slip surface that ensures your mattress stays put for a full night's sleep.
I need more of a summer sleeping bag used for many activities. I am picking between SummerLite or MegaLite where I like addition of top colar on MegaLite and additional down BUT I am not sure about the size. It is wider than SummerLite.



How can I know if this will be to big in shoulder area or not. Usually i sleep in base layer.



Thanks
What is the circumference of your shoulders? Do you move a lot when you sleep? I mean the Megalite will be more comfortable because you have more room but, you sacrifice a little weight. I'd say if you move around a lot go with the Megalite, if you can sleep still on your back the Summer Lite is a good option.



Feel free to hit me up at bporreca@backcountry.com or 801-736-6398.
Hi, just wondering what the actual length of this bag is in the Long size. I'm just over the height limit at 6'7" and wonder if the length would be too short for me. All other measurements are present except length on their site as well. Thanks
Hey there, Leta here with Western Mountaineering. Shoot, this is a tough one. You really need a semi rectangular option, and Western Mountaineering does make a bag that I think would work: a 6'6" Alder at 25 degrees. It's semi rectangular, no hood, which is what you would need. The only 7'0" options we have are starting at 15 degrees and colder. The Gear Heads at Backcountry.com are awesome about special orders. They will take good care of you!



Hope this was helpful,



Leta
Sleeping bag liners and pads to recommend. I just got my 6'-6" Megalite and am trying to figure out what liner and pad would work best with this bag? I am a side sleeper! Thanks, Ben
Hey Ben,



There are a whole bunch of options. How important is weight to you? What type of R-value are you looking for in the sleeping pad? What type of trips / area will you be taking this set up to.



Feel free to email directly and I can work with you 1-on-1



Jared D.

Expert Gearhead

801.736.4336

jdowns@backcountry.com
Hello Does the megalight open fully into...
Hello

Does the megalight open fully into a blanket like the terralite?

Or does it zip down one side to the feet, which remain enclosed?

Many thanks
The latter of the two possibilities: this bag zips down one side to the feet, which remain enclosed.

Hope this helps.
My Dream Bag
Gender:

Female

Familiarity:

I've put it through the wringer
I loved this thing so much, i ended up getting the kodiak as well for colder trips! I've now had this bag for 5 years though, and I've had no problems at all. I may send it in for some extra stuffing soon, but that's to be expected after close to 6 years of pretty constant use! I didn't really realize how awesome WM is though until I went to shop for a colder weather bag a couple years ago. I actually tried a few other companies over several months (trying to avoid the high WM price tag), but I ended up coming back to this awesome bag company in the end. WM makes a more comfortable bag than other companies with plenty of wiggle room, and they rate their bags' temperatures more conservatively than other companies, which means more warmth! You really can't beat their quality! ...Also, I can zip both bags together with no problems (since one is left, the other right), even though they are different links.
Perfect choice to fit my needs
Fwiw, I received my 6' regular Megalite today so, of course, I gave it the once over. . While I didn't inspect it minutely, I saw no noticeable defects in workmanship. The zipper operated smoothly without snags. The material felt nice on the skin. I then tried it on for size. Right now I'm 6'10.5" and 195 lbs with a 42" chest. I wore a base layer with my Golite synthetic vest and Zpacks beanie. I easily fit in the bag at the shoulders and chest with the vest on. I could cross my arms over my chest or leave them lengthwise next to my torso without constriction. The bag also easily fit lengthwise, I had no issues wearing my beanie in the hood, and the draft collar seemed to fit well. In fact it felt like I had about 6" left in the footbox where I could place damp clothing to dry or water bottles without sacrificing foot area. The footbox felt pretty roomy as well without the need to curl my toes. The stuff sack weighed 1.4 oz on my scale. The bag in the sack was 26 oz exactly meaning the bag weighed 24.6 oz. on its own. Admittedly the bag is expensive but I already have confidence it will give me the protection I need while allowing me to manage a lightweight pack. All in all, I know I made the right choice for my needs. Lastly, the purchase supports American workers instead of Chinese. I like that fact a lot.


customize your down by sending it in.
Familiarity:

I've put it through the wringer
this is a high quality sleeping bag if you do buy it and find that you are cold with your 30 degree rating and don't think you are warm enough western mountaineering is a solid company send the bag to them ask them to stuff your bag with a bit of extra down and boost your temp on your bag. i love this bag mainly cause it is so light and with my compression sac i can squeeze this guy in my small light day pack and still have room for the rest of my gear. i bought this cause i was cutting weight from my pack and got all new gear with super light wt in mind. i say get it like i said if it not as warm as you hoped send it in and get a boost of down.
Loved It
Gender:

Male

Familiarity:

I returned this product before using it
Loved the bag in terms of workmanship and materials, but I returned it when I decided that a 20 degree three season bag and a 40 degree summer bag better fit my needs. I replaced this with a WM Alpinlite and a WM Mitylite.
I have been using my 6' mega for 2 yrs and am so pleased with how the temp rating is right on but I have easily pushed the temp rating by wearing long unders. I have put on my down sweater inside it and been too warm so Im not sure where the bottom temp is on that combo.You can only do that because of the generous cut. Buy this bag and feel like a very smart and patriotic outdoorsperson!
WM Megalite is for real
Gender:

Male

Familiarity:

I've used it once or twice and have initial impressions
This bag is just great. I am 6'2 185 lbs and bought the long size. I am a side sleeper and prefer space inside of my bag; this bag fits my needs perfectly. Lofty, warm, light, and smooth are the four words that sum up its features. I can't believe a bag this spacious actually fits into the included XS stuff sac. I especially love the smooth inside/outside face material, it just feels very soothing to the touch, unlike the Montbell u.l.'s tissue like material. Few people talked about the function of a smooth face material on a sleeping bag, but the smoothness of the inner surface lends itself to allow easier tumbling and turning, without taking the bag with you.

My wife and I can even use it unzipped as a comforter, and achieve decent warmth and comfort. It also shows minimum down leakage, which is a serious problem in other bags that I have owned. This is one piece of luxurious equipment that I can honestly say well worth the money.
Sweet bag
Gender:

Female

Familiarity:

I've used it once or twice and have initial impressions
This is my first WM bag and I'm hooked. Just took it on a 2 night backpacking trip. Super lightweight & compact. I'm a woman, 5'2 and the 5'6" is perfect. It is roomy in the shoulders good if you move around alot at night and/or for warmer temps but not efficient in temps below 40 (I stuffed my extra clothes in the space to make it work in upper 30's) I do like the bag, but because of the roominess, this will be my warmer weather bag and I'll probably get the Apache for more efficiency in cold wx.
I have purchased 4 WM bags over the years and have steered several friends to them as well. They are simply the best sleeping bags made. Superior quality and performance in every way. They are a work of art. I use the Megalite for most of my backpacking, It's just right for 3 season use.
Received mine last week and took off for two nights. It was 38f and damp as is usual in the Sierras this time of year. I was totally warm and dry.

I have a MontBell 32f that cost $40 less and I was freezing last month. Big deal..save $40 for Chinese junk. I also had another high end brand 32f bag...same thing..Chinese junk.

I also have an Alpinlite. It is too much unless around or below 32f. WM bags are the only ones with real temp ratings.
Do you guys every plan on getting the 6'...
Do you guys every plan on getting the 6' version in stock??
Your best bet for a quick answer to stock questions will be to initiate a chat with a BC rep using the link at the top of the page. Best of luck!
Where are the 6 ft west mountaineering...
Where are the 6 ft west mountaineering bags.every model I look at only has 5-6 and 6-6.
The bags are so popular that all of the normal sizes are out of stock right now. Check with a Backcountry rep in chat or by email or phone to see if they have an ETA on new orders.
I need to make one more check before...
I need to make one more check before investing in two of these Megalite bags.
Assuming I get a Long LZ and a Reg RZ, can i couple/mate/zip two megalite bags together?
Thanks.
They should zip together, the only thing to consider is one zipper may be slightly longer. But these are the best bags out there, and made in USA. You wont be disappointed.
I have this bag and a longer WM Kodiak, and although the temps of the bags are very different, they zip together without a problem! I've also noticed that a 6ft person can make due pretty well without feeling cramped in the 5'6" bag!
I wondering about this one or the Highlite....
I wondering about this one or the Highlite. I'm gonna use it as an ultarlite trekking bag for sleeping indoor or in a tent. For colder conditions I have an MH Phantom 15. Is there any reason to get this one over the Highlite?
Best Answer
With the Megalite, you can shift the down around to load up in cold spots and have a bit more circumference, it has a draft collar and full length draft tube, wider cut and a full-zip, but the Highlite is less expensive, narrower, lighter, different material, about the same stuff size, rated 5 degrees higher. Comparing specs side by side, both sound like they would suit you just fine. Nothing that Western Mountaineering makes will disappoint if you appreciate quality and know your needs. That said, my personal preference would be the Megalite, if for no other reason than the extra room.
Phil nailed the answer. Megalit is my call too!
Yeah...the collar and if you get caught out at 28f.
Spent two weeks sleeping comfortably in 30 degree weather. I never once felt the chills and most nights never even had to zip up all the way. Granted, I am a very warm sleeper, but I would take this bag down to 20 degrees with very little problems. Western Mountaineering makes a no frills (and no chills) bag that will last a lifetime as long as you take care of it like it takes care of you. The price is steep, but it might be the last bag you ever buy (or, if you are like me, just the first in the entire WM lineup). Add to all that the fact that it is Made in America and you should feel very warm about your WM purchase.