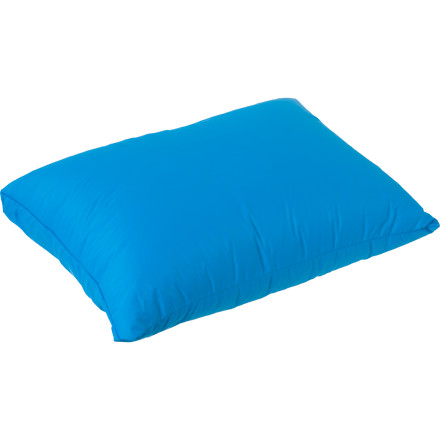 Detail Images

Community Images
Description
Sleep better, think better, perform better.
Don't even THINK about spending another night outside without a Cloud's Rest Pillow from Western Mountaineering. Made with the finest European goose down available (800+ fill power) this pillow makes the extra 4 ounces of weight well worth the carry. The pillow is constructed with durable plain weave taffeta, and lofts up to a fluffy 7-8 inches. Never will your head feel another lump on the ground! The Cloud's Rest Pillow includes spare fabric that allows you to stuff it into a small, 4" x 10" package. A must for every mountaineer, backpacker, and camper who wants the ultimate, lightweight pillow. AVAILABLE IN ASSORTED COLORS. WE'LL SURPRISE YA.
Cool idea, not enough support
Familiarity:

I've used it several times
I love down products and western mountaineering products, but in pillows they don't really mesh very well. The down is very soft and fluffy, but it goes flat once you lay your head on it. I have folded the pillow in half, which adds more height to the pillow, but it becomes so small it is hard to stay on the pillow. I am going to try and use my down jacket in their stuff sacks or get an inflatable.
Great if you like flat pillows
Gender:

Male

Familiarity:

I've used it once or twice and have initial impressions
I find this pillow great but i should preface this review with the fact that i like flat/thin pillows when sleeping on my back.



When lying on my back it i fantastic, but on my side not so much. I solved this by folding it in half on the long axis and this makes it perfect when on my side. This may be a solution for those who like a fuller pillow.



So for those of you with a flat pillow fettish this is the pillow for you!
What is the fill on the down in this...
What is the fill on the down in this pillow?
this sucker provides zero support. as soon as you put your head on it, it goes flat.

inflatable is the way to go. or just use your spare clothes.

defiantly do not waste your $ on this one.
First off, a disclaimer. At home a prefer to sleep on ancient, worn out down pillows. I dislike fluffy pillows, and like the old dead ones that are relatively flat. So with that said, this is a great pillow for me. You can stuff it into any position, and it's nice and soft. For some, it will be too small and not puffly/fluffy enough. For the lightweight and good compressibility though, I would certainly recommend this pillow for those who aren't looking for the superfluff. For those who want something more, check out the Nemo Fillo Pillow, Backcountry item# NEM0020, http://www.backcountry.com/nemo-equipment-inc.-fillo-pillow.
I tried this out, but sent it back. I should have read the reviews first, as I need more neck support and something that will cradle my giant melon. This, as others have said, just went flat as soon as I laid my head on it. I ended up going with a lightweight inflatable pillow, and I have been quite happy with it.
It looks like a really nice pillow and feels like a really nice pillow but just doesn't perform like one. Unfortunately your head just sinks right on down to the bottom and there's no real support. Not really what you're after when you spend $40.
Why does Western Mountaineering website...
Why does Western Mountaineering website say that it's Made in the USA but Backcountry list the country of origin as China?
Best Answer
Fortunately EVERYTHING Western Mountaineering makes is made in the USA, San Jose, CA to be exact! Unfortunately bc.com has it wrong.
Actually, their jackets are outsourced to Canada, but nothing of theirs is made in China. BC had it wrong, but now it is fixed :D
Western Mountaineering Down Pillow is the bombdiggity
This pillow packs really small and is super comfortable for any camping trip. It is pretty small like the other reviews say but it'll make a huge difference in your night's sleep without the expense of hauling extra baggage around.
Yes, It works on the moon.
IMO. Best Pillow Ever!

Do yourself a favor, and buy one. Nemoequipment does have a pillow; however it runs 11 ounces! This thing is awesome. It does sink when you lay on it, however, as Scott Wiley says..."It may seem under-stuffed at first - but in practice it is just right" Like other WM products, it is expensive - but again, you get what you pay for. But one!
Too small for me, I can't hold on to it when I sleep on my side. I recommend the Nemo Fillo at nemoequipment.com that is comfortable, and large.
Small, soft and comfortable
This is a nice, smallish pillow. It is very lightweight, and packs small. It comes with an attached stuff sack. However, if you are expecting a home-sized pillow you will probably be disappointed. It is relatively small, and your head does sink into it. If you are used to a small, thin pillow, it could be very nice (and much more comfortable than sleeping on a stuff sack of clothes). I have found that it fits nicely into my Big Agnes bag's pillow pocket, but then I put a folded fleece under it to add more bulk. It is pricey, so before you buy it you should ask yourself whether a smaller (but very soft and comfy) pillow will meet your needs.
This little wonder made all the difference for my wife's first backpacking trip. It is very comfortable and easy to store. I prefer the air-pillow because I need more support between neck and head, but if you like a down pillow, this one is great!
Western Mountaineering Cloudrest Down Pillow Review
The Western Mountaineering Cloudrest Down Pillow is definitely comfortable, and the lightest backpacking pillow that I could find in the market. As I have tested both this pillow and the Therm-a-Rest pillow, I will say I like the Therm-a-rest pillow more. This pillow is great because it is very light at 4oz, very packable, and extremely comfortable and soft.

This pillow is small, which makes it difficult to keep your head on the pillow all night without readjusting. Also, your head sinks down into the pillow pretty far. It is also very expensive. I am not sure if the price justifies what you get, but that's just me.
I ordered this pillow after reviewing a lot of others opinions on it. My husband an I were very disappointed. For backpacking, it is more comfortable stuffing a sack with cloths than using this pillow. For car camping it is way to small and under stuffed. It would be more useful if it had twice the amount of stuffing in it.
I purchased this after reading some great reviews. Shortly into our first night, I ended up having to use a stuff sack with some clothes as this thing was pretty much useless. I am side sleeper and realize you don't get home like comfort when backpacking, but I need more support and this pillow pretty much felt flat with almost no support. This one has been returned and being replaced with a Mont-Bell UL comfort system inflatable pillow.
Went hiking in Patagonia and brought two of these pillows (one for me, one for my husband). We both loved them, great for sleeping in your sleeping bag, and fabulous on planes!