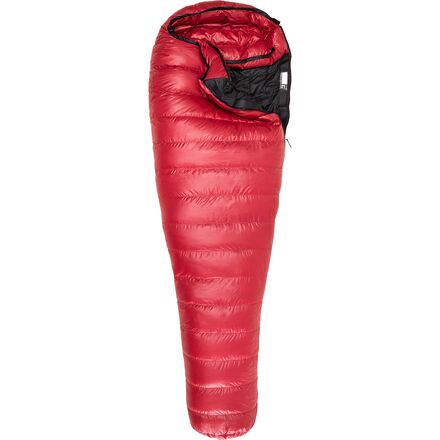 The Western Mountaineering Apache MF Sleeping Bag features premium 850-fill down and an efficient cut to help you push the limits of your three-season kit. Six inches of fluffy loft keep you cozy at night, and the breathable MicroLite XP shell repels moisture and lets body vapors escape so your warmth-giving down insulation stays dry.
Highly breathable, water-resistant MicroLite XP shell protects the down insulation from frost, condensation, and spindrift
Ultra-premium 850-fill down insulation retains your body's warmth and provides a higher warmth-to-weight ratio than any synthetic-fill insulation
Interlocking draft tubes and a down-filled collar prevent energy-sucking drafts from zapping your slumber
Narrower shoulder girth helps eliminate pockets of dead air for improved warmth retention
Western Mountaineering bags are made in the USA
Close to the best out there
Familiarity:

I've used it several times
If you want the best 15d bag, it's either this one or the ff version. I have a few WM and ff bags, and they're pretty much same as far as quality goes, with the exception that I think ff down is a little better, but this is not based on any scientific analysis I've made, just observation. I've used this bag down to 0 f with no chills, so it's a pretty darn good alpine bag I think. With compression sack, able to get to 2-3 L in size. I use vapor barrier on 2+ day trips, or if need to get more warmth out of bag.
Bought an WM Apache in 2001, still going
Familiarity:

I've put it through the wringer
I bought a WM Apache bag in 2001 and am still using it as my everyday bag. I'v probably put in over 1000 nights in it all told, from hot summer river trips to shoulder season backcountry ski outings to countless days on the trail. The bag is the best, I highly recommend it. Get it overstuffed for an extra 25 bucks or so.
Hi, can anyone tell me how this fabric...
Hi,
can anyone tell me how this fabric (MF) stacks up against the Pertex Endurance UL fabric? I am trying to decide b/w this bag & the Feathered Friends Lark (which is a bit roomier - not necessarily a good thing IMHO). I do want a water resistant outer shell, a must in SW Tasmania's fickle & often wet conditions. Any other comments on this bag would be greatly appreciated. Thanks in advance. Stuart.
The Microfiber material is ultra water resistant. It will shed water from the outside.

In comparison, I'd say that Pertex is going to keep you drier from the outside. If you are sweaty (as most people are), Microfiber will keep you more dry from the inside--it breaths better than any type of Pertex layer.

It all boils down to if you're in a tent--if yes, then the Microfiber will be plenty dry enough. If not, then the Feathered Friends bag may be the way to go as it will better protect your down from the elements.
I too looked at these and ultimately went with FF Snowbunting with 2 ounce overfill. I've been in it as low as 18 in underwear and t-shirt and its fine with good ground pads...
Can Apache be zipped together with an...
Can Apache be zipped together with an Alpine lite??
Yes they can. If you get different lengths (1 long and 1 reg) then one will be lower than the other, but the zippers are 100% compatible.
15f bag i am 6ft 1 50 inch shoulders...
15f bag i am 6ft 1 50 inch shoulders current mummy bag to tight .what size do u recammend
The Long Apache MF will give you the room you need.
I am interested in the Apache MF. I am...
I am interested in the Apache MF. I am 5"6" 148lb Am I cutting it to close getting the 5"6" bag?
Best Answer
The 5'-6" on the short bag is max user height, so yeah, right there. You would be more comfortable in the regular 6'-0" bag. It's nice to be able to hunker in a little and by the time you figure a few more inches for plantarflexion when you're on your back, you'll be better off going longer. Hope that helps.
Everyone I know who is close to the height of a Western Bag--6' or 5'6"--has been comfortable in that bag. I think with Western, the height rating is a comfort rating and not the straight length of the interior space. A 5'6" bag is built to fit a 5'6" person comfortably...
Great bag, but not warm enough
First, I have to say WM bags are amazing. They are built well, and really have no equal on the market.
I'm a woman, 5'11" and slender built, and a cold sleeper. I loved this bag because this one actually fit me right. Other Men's bags are generally way to roomy in the shoulders, and women's bags aren't tall enough. Unfortunately I took it for a test run a few days ago and although the temp just hit 25F outside, I was still cold. I'm not quite sure what to do because WM doesn't make any other bags this sut at a lower temp rating. :(
I have this bag... and love it! I want...
I have this bag... and love it! I want to get one for my girlfriend as well. I see there are left and right zip options. My question is: will the left and right zip bags zip together?
They'll zip together, but only partway down since it's not a full length zipper. Your feet will still have to be separate, so if you're hardcore cuddlers this might not work.
Yes, and you can couple it with pretty much any Western Bag. But your feet will be separate as Angus says above because the zip does not go around the bottom on this one.. Have fun! ;-)
Expensive but worth it.
Tall/slim guy and bag is quite roomy - no claustrophobia here!
Bag is red on top and black inside and on the bottom, looks great.
Zipper works well and can be opened at the bottom for foot ventilation
I am looking for a sleeping bag for...
I am looking for a sleeping bag for Australia, with a tempereture range of 10 degrees dowm to -10 degrees.
Any help.
Best Answer
I have two Western Mountaineering sleeping bags & in my humble opinion, there is no better bag on the market. On the down side they are $$$. Depending on your usage, purchase a WM bag to get many years of comfort, warmth, & service. I have the Antelope & would highly recommend it for your intended purpose however you might have to layer up a wee bit for -10. Here's more information:

http://www.backcountry.com/outdoorgear/Western-Mountaineering-Antelope-MF-Sleeping-Bag-5-Degree-Down/WES0028M.html
I agree with Jeff, I would get the Antelope for ranges of 10 degrees to -10. Western also does an overfill (and I believe its 3-4oz more for this model bag). Accordingly, this will lower the temp rating a few degrees (conservatively). I would look into that option if getting this bag for your situation.
Best Quality Sleeping Bag out there
I have had an Apache bag for about 2 years now and it is my go to. One feature that I would like to call out is the stiff lip that runs along the inside of the zipper which prevents snags. Snags are probably the #1 way to ruin your bag.

Another thing I would like to mention is that when you buy a new bag, be sure to look at 'fill weight' as opposed to temperature rating which is defined by the manufacturer. You will notice that WM's bags come with a higher fill at a particular temperature rating when compared to North Face or Sierra Designs (note that both make excellent bags as well and offer features that surpass WM in some areas). WM bags also tend to weigh a little less than their competitors even with the extra fill.

One last item worthy of being called out is that if you order directly from Western Mountaineering, you can get a left or right side zipper and add 2 ounces of overfill to your bag.
Western Mountaineering = +
All Western Mountaineering bags are super. This one is a narrow version of the Badger MF, which is at least 66 inches in the shoulders. If you're looking for a 15 degree bag (a conservative rating like the ratings for all their bags) that'll last the next 20 years look at this one or the Badger (depending on how narrow you like your bag).
I used this for my PCT through-hike, it was the one piece of gear that didnt fail, completely lived up to its expectations... Would definitely buy this bag again if i were doing the same thing