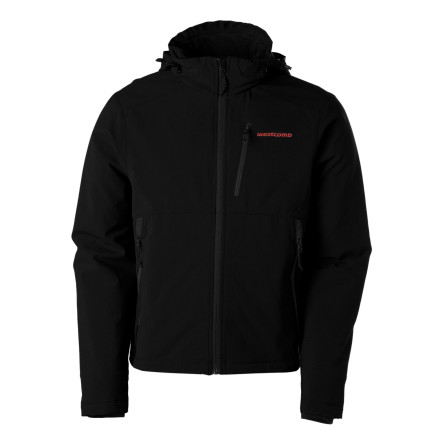 How can this be so comfortable?
I have not had anything more comfortable since my old jean jacket that I had for a decade. It's soft, fits like a glove, warm when it needs to be and comfortable just when there's a little chill - I LOVE it. Quality is far and away better than any ski gear I've had in a LONG time. I'm going to get Westcomb bibs and a few other jackets... This company is the real deal!
you can tell that Westcomb is a company out to prove itself. The arcane jacket rocks! The fabrics and insulation used are top quality for breathabilty and weather resistance, and put together really well. The hood is one of the best designs I've seen - even with the micro-fleece lining it remains really thin, but still completly blocks wind and water. Might be a little tight over a helmet, but is thin enough to fit under a helmet as an option, and will still stretch and move with you. The cuffs have some super stretchy lycra sewn in that acts as wrist gaitors, but you can also pull it down over your hands to about your knuckles - has a thumb hole! AWESOME. Drawstring waist to keep out drafts and the pow. The fit is great. I am inbetween a L and XL, and got the arcane in an XL. The large would have worked (with limited room for layering), but the XL doesn't look or feel baggy, and still looks amazing with room for any combo of layering I might choose.
I took a bit of a gamble going with a company I knew nothing about. With gambling, you win some and you lose some, and with the Arcane I scored big time.
In the photo the jacket appears really...
In the photo the jacket appears really short. Is that a correct representation?
Best Answer
The waste extends down to around the middle of the butt for me. A little short compared to some others but still plenty of coverage.
1) How much does it weigh (size L)? 2) Is...
1) How much does it weigh (size L)?
2) Is the hood also insulated? (By the way, I don't this S3 insulation is a Polarguard product.)
3) Is the primary use as a ski jacket - perhaps not very packable?
To answer your questions:1) The Arcane is not a light jacket. It weighs in at about 32oz. for size Lg, but you have to keep in mind that this jacket was designed for durability, warmth, and stretch. If lightweight and packability are major criterias, this might not be the jacket for you.2) It does not have an insulated hood. The Recon IL (Polartech Powershield w/Hardface and Primaloft), which is very similar to the Arcane in design and features has the insulated hood. The Arcane's hood was designed to be more discreet by zipping into the collar. It does have a fuzzy, micro-fleece lining and is virtually windproof.3) This jacket is very versatile in that it can be used as an everyday, go-to jacket, is durable enough to withstand abuse that, say, a construction worker would put it through, but is also incredibly warm and stretchy for more active type activities such as skiing. You are right, it isn't a very packable jacket and not designed necessarily for winter backpacking, etc. I think it's an excellent belay jacket due to it's laminated construction (ie. no cold spots) and it's ability to take abrasion and move without being restrictive. Most who own one that I've talked to say it's quickly become their favorite winter jacket.The S3 is actually a Consoltex insulation similar to Polarguard (continuous filament fibers).
RE: S3 as a polarguard product - it really is. I found this article about it. Here is an exerpt: "By bonding Polarguard - a full-stretch synthetic continuous filament insulation - to a mechanical stretch lining, Consoltex is producing a lightweight insulated soft shell fabric solution that maintains the stretchability, breathability, abrasion and weather-resistance of a true soft shell through multiple wash cycles. "

full article here:
http://www.consoltex.com/pages/news/insulatedsoftshell.aspx?lang=EN-CA
Westcomb makes a great jacket... The Arcane fits slimmer and better than any other insulated jacket I have ever tried on. It has amazing built in hand-covers that help out when your gloves are off on those frigid days and a great hood that looks good and stows easily (though may be small for a ski helmet). And even though this jacket is slim cut, the stretch makes this jacket super comfortable for serious movement. Its def burly enough for the mountains but also sharp enough for nights in the city - which means I rarely take it off. The only reason I haven't given this jacket a full 5-stars is that it sometimes can be too warm and mine DOES NOT have core venting... It could really use pit zips.