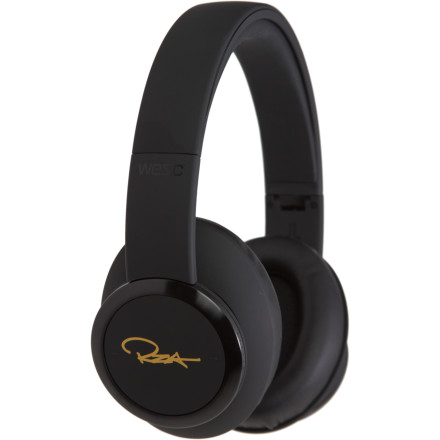 Detail Images
WeSC teamed up with one of the most influential figures in all of music???none other than The RZA himself???to create the RZA Premium Headphones. Loaded with features like noise-canceling technology, a LED-based equalizer that lights up to the beat of your tunes, and a sharing function that lets your friends plug in and share your music, these cans are worthy of carrying through all 36 chambers and up to the iron flag.
Active noise cancellation with on/off switch blocks up to 18db of outside noise
LED equalizer with on/off switch lights up in time with your tracks
40mm power drivers for clear, powerful sound quality
Includes two cords; one with an adapter featuring volume and phone control for everyday use, and a longer cord for DJ or studio use
Music-sharing function lets a friend plug in and listen along with you
Includes hard case, 2 AA batteries, and a two-prong adapter for airline use
What do you think about this product?
Have questions about this product?
These cans are nice. Highly slept on and you're missing out....
I'm just going to get straight to the point. These cans sound absolutely amazing. Right out of the box without any burn-in time these are awesome. Very well built, comfortable, light-weight but not in terms of cheapness. These are a pair of cans that become more and more enjoyable as the days go by. Glad I picked up a pair as I was a bit skeptical which I'm sure most ppl are. Trust me, Beats by Dre couldn't hold a stick to these. Best Celebrity endorsed headphones on the market. I'm not just blowing smoke in the air. I own several pair of headphones to include Grado which is the best pair I own.. Get these. Get them.. Thank you.
If you're like me and could do without screaming children, loud mouth neighbors, and banging bathroom doors on an airplane, then these are for you. Put these suckers on, flip on the switch to block out outside noise and enjoy the peace and quiet of flying the friendly skies. When I did watch a movie with them on my iPad, the sound was fantastic. I also really like that these aren't obnoxiously colored. Plain black. Love em.
Unanswered Question
I love these headphones but I am hearing...
I love these headphones but I am hearing a little bit of a buzzing noise coming from the left cup. Is that normal for these headphones? It actually sounds pretty cool with the hip hop music I listen to but I find it a little distracting when I listen to softer folky music.