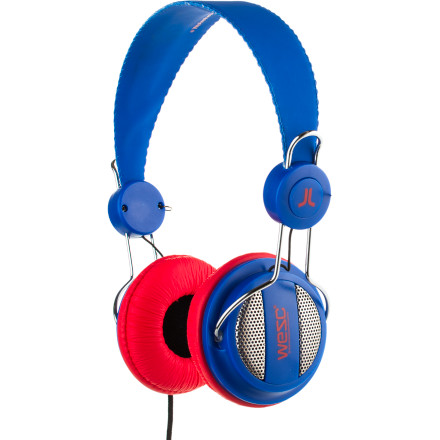 From hip-hop to indie, or even the occasional foray into classical (whatever helps you do work, son) the WeSC Oboe Headphones are with you all the way producing sonic superiority. 40mm drivers produce deep bass and controlled, accurate highs, while a low 32-ohm resistance makes it easy to power these cans with a portable player or laptop.
They look good and sound great, what more could you want from headphones?

They do take a little to break in so it might hurt your ears a little if you wear them for hours at a time right away
Good Headphone but you can find them cheaper
I just got a pair of these on eBay for 16 dollars
i just ordered the wrong headphones. can...
i just ordered the wrong headphones. can i cancel this order so i can order the right ones
Hey Berna,

For order issues please use the "Chat now" feature at the top right of the screen or call 1-877-364-3865
the sound quality to these headphones is good but the fit is HORRIBLE. they fit way too tightly. i had them on for an hour yesterday and my ears still hurt from being clamped down to the sides of my head. then the padding on the ear cushions melted and stuck to my ears after i left them on my head all night. they are supremely UNCOMFORTABLE!
These are good moderate headphones, not for serious audiophiles but a good sounding set of casual headphones for the money.

Mine (all black /w chrome) came with an extra set of white pads to swap out with the black ones. Almost threw them away with the box, make sure you look threw all packing really well.

The mesh fabric covered cord is a nice stylistic feature, the headphones have a small extension, then you add an extension cord (provided), serves well as a breakaway point so you don't damage your headphones with snags.

The one bad thing I noticed right away or I should say my wife noticed is she could hear everything across the living room clearly.

If you don't mind putting together a five minute simple hack you can fix this. I had some egg crate style foam packing material which I cut into circles the size of the ear pads. Remove the earpads, remove the three screws, pack the foam behind the speakers and put it back together. Problem solved. Sound great.

@terencehood
www.youtube.com/terencehood
Unanswered Question
Are all the Oboe's on sale or is it just...
Are all the Oboe's on sale or is it just the jazz blue? And has everyone the same sale price?
Aint worth a velvet painting of a whale and a dolphin getting it on
Way too tight. I've already got a narrow head and these things pinch my ears so tight they were starting to go numb. The orange color is actually candy red. Also when you're using them and you turn the volume up past halfway, people sitting next to you can clearly here what you're listening to. These suck hard man.
these are perfect. just what i was looking for.. work fab and look great too!
Hi, i have this headphones, during two weeks, and the sound is very good, but when you listen music the sound goes out and other people near you can listen what are you listening, but they are very good
I buy this Headphones for my daughter IPod and she is happy, really comfortable and the music sounds great.
Nice headphones but didn't last
I love these headphones, the sound quality works for me and they look way legit..but i've been rockin them only this season riding and they broke on me. The headphone cable came partially unattached from the headphones, and I can no longer rock em. Really sick phones but if you are hard on your gear, just a warning these didn't last for me.
"Hot Orange" are not "hot" and not "orange"
The headphones are great but the color "hot orange" does not look anything close to the color in the picture. The "hot orange" is not orange, nor is it hot. The color is a boring red color.
These were my first ever real head phones and I have no regrets. I rock these EVERY day walkin around school and downtown. They put out good amount of base, and can still here the lyrics perfect. I recommend these to any one, in fact I bought them for my girl and friend. There are just 2 issues with them, 1 they begin to hurt my ears after prolonged use, about 1 hour to 2 hours, and 2nd, the screws that hold them together rattled loose so many times, I ended up replacing them. My girl hasn't had any issues with them and she has had them for almost a year now.
For god sakes, don't buy these. I thought they were over ear phones, because they're styled that way, but they are on ear and absolutely the most uncomfortable headphones I've ever worn. They also sound completely terrible... I bet you could get a better $10 pair from Walmart. No shit. I took them out of the box, wore them for close to an hour, and sent them back. Other headphones I've owned are the Nixon wires, Monster Beats, Skullcandy Smokin' Buds and Titans; aside from that I usually listen to my Bose sounddock. Anyway, if you don't care about sound or comfort, then I guess go ahed and purchase.
Considering price and quality, how would...
Considering price and quality, how would you guys rate these? They look awesome but I don' t know if I want to pay that much.
Dont waster your money, there too much for the quality
These headphones are great. The sound quality is great and they block out all outside noise. They are comfortable and look awesome on. They're not big and bulky like other headphones can be. Perfect!
Sweet headphones! Got the green pair and they are sick! Could sound better but they look sweet.
Sound and noise canceling features are not bad. I flew JetBlue during the holidays and these came in very handy on the plane because they have the universal headphone jack for Direct TV. Anyway... as mentioned by the other reviews after about an hour or so you can really feel the pressure on your ears. Not horrible but I have a smaller head than most. Plenty of cushion, comes with a long extension cord. They also are very snug and don't move around.