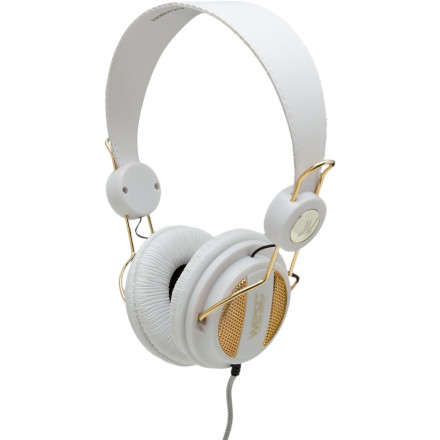 Community Images
If you use the term 'golden' to describe your mood, the feeling in your soul when you devour a delicate amuse bouche, or a stellar set by a band that you finally get to see live, then you're an activist. But not a political activist???we're talking about preserving style, uniqueness, and the accessibility of music, fashion, and art for the masses. The WeSC Oboe Golden Headphones are more than a means to turn your head to mush for as many hours as possible; they are the gold-accented accessory that your style and musical tastes require. Rest the soft, cup-style pads on your ear, adjust the band over your head, turn up the volume on your portable device, and be a conspirator.
Yeah I dunno whats up with that other review...
But mine fit fine. How else are headphones going to stay on your head without being pre-curved to pinch your head? It wasn't tight at all, it was probably the fact that on-ear headphones pin your ear back. If you wear ANY on-ear phones for a long period of time they start to hurt...

IN FACT, I actually REALLY liked how they felt. I've had a lot of headphones, and the cushions on these ones were really soft on my ears. Aside from that they had the dope look to them - got them in the blue, and that gold just stands out. MAD Blingin. - and the sound was more then decent. Quite full and solid. Definitely a buy if you're a casual looking to use this around town... or travelling... or anything else. If you're considering, just buy them.
It's alright. Not bone shattering, but it gives you a pretty full sound.
WeSC is obviously more concerned about how their products look versus how they work. They are very tight and the sound is mediocre. I'll hand it to them that they're cute but I wouldn't recommend.