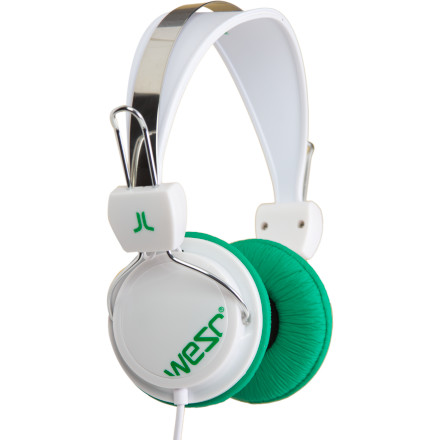 Community Images
Throw the WeSC Bongo Headphones over your drums before you board your bus downtown. These 'phones rock super-cushy, noise-canceling ear cups to drown out the sound of the drunken hobo at the back of the bus, while the burly 40mm power drivers crank your jams to epic proportions. And don't worry about missing the call to arms from the party-planning committee???the included handsfree microphone lets you pause the back-beats to receive and relay war plans and coordinates. With the means to speak volumes and an extra-long cord, these phones make you as comfortable on your tables as your urban chariot, and the gold-plated plug ensures the best connection you'll find anywhere.
Great sound for small heads
Familiarity:

I've used it several times
The sound quality on these are amazing, and the extra cord makes these just long enough if the device you are using is in pocket (but probably not desktop). My biggest complaint is that these must have been made with a small head in mind because with a hat or beanie on they almost don't fit over my head.
Best Answer
Hey,

Negative, these are on-ear.
I got a new pair after my old cord finally started giving out after three years. They are still made as good as the old ones, the sound might even be a little better.

Its of course not audiophile quality, but these sound and look better than anything under $150 or so
Great headphones, short cord
The headphones have plenty of street swagger for everyone who is concerned with style, and their sound quality is excellent as well. The only reason I'm docking them a star is because the cord is really short. The description says it has an extra-long cord, but mine just had about a 3-4 footer and the adapter, so they aren't so good for anything but your mp3 player unless you want to sit right next to the plug in.
Wow. I hate ear buds. So, I got a pair of skull candy Icon 2's for snowboarding in. They rock for that, but for just listening to music on my computer they suck. So, I got these. They rock. They have excellent sound. They can pump out the bass, but also have great treble as well. Well rounded sound. The Cord length in the description is a little off... its like 18 inches and a 3 foot extension, not 11.5 ft extension. BUT THESE TOTALLY BLOW AWAY ALL OTHER HEADPHONES FOR THE PRICE!!
Are these headphones good for noise...
Are these headphones good for noise cancellation or do they leak alot of sound
They leak more out than in-ears but also block a decent amount of outside noise. I wouldn't recommend if you are looking for something with noise cancellation