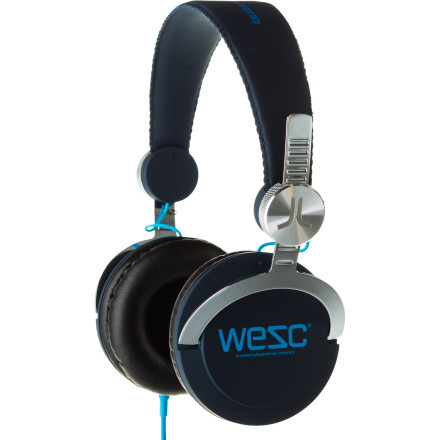 Community Images
Plug in the WeSC Bass Headphone for deep lows, epic mids, and crystal clear highs.
Gold plated connections ensure no sound quality is lost
One speaker can be moved away from the ear for DJ-ing
Soft ear muffs and head band provide comfort.
Are these considered noise cancelling...
Are these considered noise cancelling headphones
From other reviews I have read they say that they have great noise cancellation.
Perfection for the Casual Audiophile
I've had a pair of these headphones for about 4 years now, and they have yet to fail me.
They have great solid sound, what I like to call "Fail-Safe" cords (The kind that wont come apart if you pull them), and are incredibly durable.

These headphones have been around the world with me. They've seen all of Western Europe, Coast to Coast in North America, and A bit of Southeast Asia. They've been ridden with, used daily as a commuter headphone, even sat and stepped on. I had to duct tape the metal portion connecting the earphone to the headpiece on the left side, but hell, that was over a year ago, and it STILL works like a charm.

If you want sick sound, solid phones, and no hassle?
Get these. I guarantee you'll be down
I have had a pair of these for almost a year now, and i HIGHLY reccomend these, the bass in them is exactly what im listening for in a pair, i honestly like them better the beats. they're light weight, and look fantastic.
Do these fit over your ears?
Do these fit over your ears?
Yo Rob,

It actually depends. They're deep, but round rather than oval, so if you have small enough ears, they'll fit over them.

I have big ears, but I like it better when I tuck them into the headphones - making them Over-ear. Otherwise it's just the top of your ear that gets pinned in the on-ear look
I would recommend this for someone who isn't too much of an audiophile, while it sounds good, it could be much better. The lows are great, just not awesome, mids and highs need some work. I might have to buy more expensive pair to fit my needs, but these are nice looking at least :D if that's what you're into