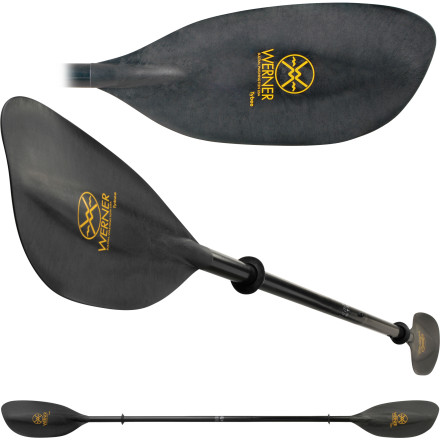 Description
Island-hop with ease, despite the shifting currents.
To fight through the rushing tide, the aggressive, two-piece Werner Tybee CF IM Paddle provides the power needed to propel you out of the estuary and back to the beach without waiting for the next tide. For high-angle paddling styles more common to big river or ocean kayakers, this super-lightweight carbon paddle provides a more powerful stroke for quick maneuvering, bracing, and even rolling.
Smart-View Adjustable Ferrule uses a low-profile button and internal gear system to shift the feather angle in 15-degree increments to match your paddle stroke
Nylon blades are reinforced with carbon to ensure durability and easy paddling in moving water
Medium-surface-area blades feature a dihedral, or arch, shape to catch more water and yield a powerful stroke with a smooth release
Carbon blend shaft material is the lightest weight shaft available for long, multi-day archipelago tours
Straight shaft minimizes weight and allows easy hand arrangements for versatile paddling techniques
Mid-sized blade fits most kayakers' size and flatwater ambitions
Superlight
Familiarity:

I've put it through the wringer
I don't even feel it while paddling. it's superlight and i love the ability to adjust to different angles. what a great price on a werner!!!
My first paddle :)
Familiarity:

I've used it several times
Cant really say anything more then it looks nice, and travels nice in the ocean.

Giving it 4 stars because i dont know what im talking about :))
Though I don't have my Cuda yet, I used this paddle on a rental & it made a difference. Yep, even on a rental Tarpon with all my rods & reels thrown everywhere, the paddle stayed balanced in my lap (where it HAD to go), plus it glides through the water & I think it's much quieter - maybe it's because I snuck up on a few fish before they knew I was there!!
This is my first experience with these paddles and I find them to be top notch. I purchased two of them for use with my 11.5 Perception Tribes. Very light, strong and have a good responsive feel when paddling. The design on the adjustable ferrule is pretty sleek and has a minimal profile. You wear your arms out from paddling as opposed to holding the paddle up throughout a good day on the lake. The increments for adjusting your paddle stroke allow for some pretty fine tuning and does not require an iron grip to depress the locking button.