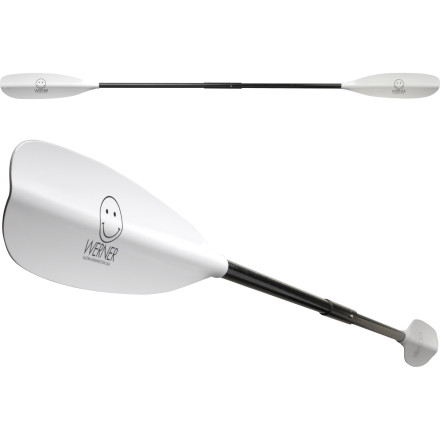 Forget bulky adult paddles and cheap kid designs; the two-piece Werner Kids' Sprite Paddle floats to the top of the crop because it exhibits all the qualities of a full-size Werner paddle, just sized to fit the demands of young paddlers. Far from a toy, this low-angle touring paddle provides easy but efficient strokes for young water-lovers with its correctly proportioned blade and lightweight straight shaft.
Nylon blades are reinforced with fiberglass to ensure durability and easy paddling in rivers, lakes, and bays
Blades feature a dihedral, or arch, shape to catch more water and yield a powerful stroke with a smooth release
A small-diameter carbon blend shaft material is the lightest weight shaft available that matches kids' hands for all-day excursions
Straight shaft minimizes weight and allows easy hand placement for versatile paddling techniques
What do you think about this product?
Have questions about this product?
How is paddle length determined? Trying...
How is paddle length determined?

Trying to figure out what length to buy for a 56" tall boy.

Thanks,


That really depends on the width of the kayak, and the type of paddling. For touring, something 215-225 cm should be good for most boats.
Am looking for Paddles to suit our younger...
Am looking for Paddles to suit our younger members ie 10 - 14 yr olds. Our current stock are to long and blades to large.

Could you let me know the type of conector you utilise for joining the paddles and if the feather on the shaft is fixed or adjustable with degree markings. We are looking for paddles around 200 - 206 cm

Thanks

Ray (Currumbin Creek Paddlers Club)
Best Answer
Hi Ray,



We utilize a snap button ferrule on the Sprite. It has 3 adjustable positions. Left Hand Control 45, Zero or Unfeathered and Right Hand Control 45. We can make the Sprite from 150cm to 230cm in 10cm increments. Give us a call at 800-275-3311 if you have any more questions. Thanks!