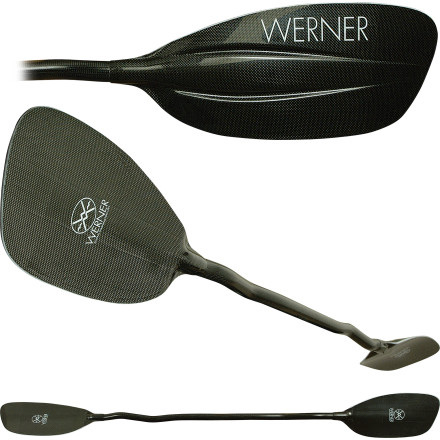 Colors
Description
The weapon of choice for steep creeks and big whitewater.
Before rocketing down a swollen Sierra creek, unsheathe the Werner Sho-Gun Paddle for reduced fatigue, a powerful catch, and improved performance in aerated water. The full-sized carbon fiber blade design provides seasoned paddlers with the power they need to maneuver and roll in tough whitewater while the Neutral Bent Shaft aligns your wrists for less fatigue and greater control.
Carbon fiber blade construction and a fiberglass shaft provide durability and a low weight of just over two pounds
Full-sized Performance Core blades are ideal for seasoned paddlers in powerful creek and river conditions
Foam core blade design provides improved buoyancy and performance in aerated water
Foam core blades are reinforced with KEVLAR® and Dynel edging for enhanced durability
Neutral Bent Shaft reduces fatigue and improves control by naturally aligning the wrists
Single-piece shaft is perfectly balanced for greater precision and comfort
Werner Sho-Gun
Familiarity:

I've put it through the wringer
I've been paddling Sho-Guns for years now but have recently upgraded to a 200 from my 197. This was mainly due to bigger boats and more reach on bigger water. I am so happy with the upgrade and it has made a fantastic paddle even better. Can't wait to get back on the river with it.
Bought 5/15/2014 - delaminating 9/15
Familiarity:

I've put it through the wringer
Great paddle in terms of performance. I ponied up for what I thought was the best paddle out there and I'm surprised to find it coming apart already. Technically out of warranty but hopefully werner will hook me up. I have only heard good things about their customer service so I have my fingers crossed.
Super fast shipping, great deal
The Sho-Gun is more costly than what I paid for most of my $200-250 boats! I have a Werner Twist bent shaft play paddle with fiberglass blades. My favorite paddle to date. This Sho-Gun is going take the top spot now. It is heavy compared to the Twist, but the std shaft and the bends seem to fit me better. The blades are thicker than the fiberglass blades but there is no ridge on either side of the blade so it is probably an improvement for draws. Will test it tomorrow. Great service here at Back Country!
This is manufactured in both a 30 and 45 degree feather angle. we carry the 30 degree
any chance you'll be getting the 200cm...
any chance you'll be getting the 200cm back in stock?
Hey there! We currently have the 200cm Standard Shaft in stock!
is this the 30 or 45 degree feather?
is this the 30 or 45 degree feather?
30 degrees, according to their website.
just bought one, 30 degree. the blade is thick, like 3/16" and has a white edge. It's not thin like the fiberglass blades on my Twist. Just opened it 1/2 hour ago. It is a beautiful thing, can't wait to try it. The blade shape is different too, no ridge, flat on the power side. Looks like draws will be done with less resistance.