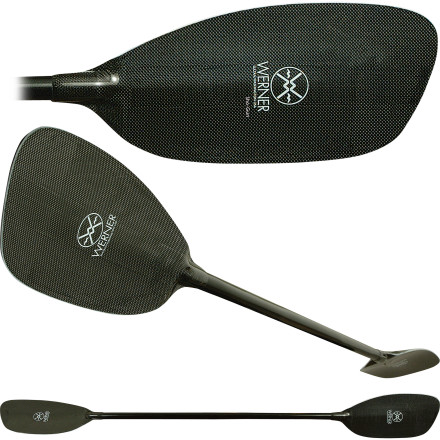 Colors

Community Images
Description
When speed and power are mandatory for a safe run through the canyon.
It takes more than experience to keep you in the right line on a big red river. The Werner Sho-Gun 1-Piece Performance Whitewater Paddle provides the power and smooth, river-slicing performance you need to accelerate out of eddies and hit the narrows just right. The large, buoyant blade and straight shaft yield efficient strokes for demanding trips down any volume of water.
The rolls Royce of paddles...
Familiarity:

I've put it through the wringer
Werners are the best and most high end paddles made. The Shogun is a top choice for a low stroke rate, high propulsion per stroke style. The blades are large and if not properly conditioned, this paddle can lead to premature fatigue and muscle overload. So I think this is not a good choice for new boaters. Now for the experienced and conditioned paddler the Shogun excels in fast acceleration and stratigically placed power strokes. Bracing and rolling are enhanced and in continuous 4/5 water this paddle will be your best friend. Materials and craftsmanship are without question the best in class. Werner paddles will endure years or hard use. I have had Werner foam core paddles last up to 6 years of 100+ days of class 4/5 use. I went from a double diamond to the shogun and am loving it. It has taken time to get used to the larger blades but upgrade in my power on boof strokes is noticeable, however my stroke rate has decreased because of the larger blades. I definitely recommend this paddle, but understand your fitness and the type of water you paddle. Is the Shogun overkill on a class 2/3 river? I think it is. For the in shape boater pushing his limits though I dare you to do any better than the Shogun or any Werner premium foam core stick.
Quality!
Familiarity:

I've put it through the wringer
Great paddle that really makes a difference. The paddle is super stiff and strong. I was previously using a Sherpa, and decide to upgrade to a Sho-Gun and I am glad I did. This paddle provides so much more control and power. Don't go cheap, go ahead and spend the money now because it will make a difference in the long run. I have now had this for a few months and have had it on some pretty tough creeks and it has held up to the beating I have given it.
Awesome Stick
Familiarity:

I've put it through the wringer
Amazing product from Werner, strong, powerful and super stiff! I also use a Sherpa and this paddle has noticeably stiffer blades. I was a little concerned about the durability of the foam core blades, but I've used this paddle on some gnarly shallow, rocky creeks and it is going great guns. Few scratches but hasn't lost any size as of yet.



Only downside is the jet black colour, makes it hard to find if you lose it in the river, and for signalling to other paddlers it can sometimes be a little hard to spot. Easy fixed though with some bright tape or stickers :)