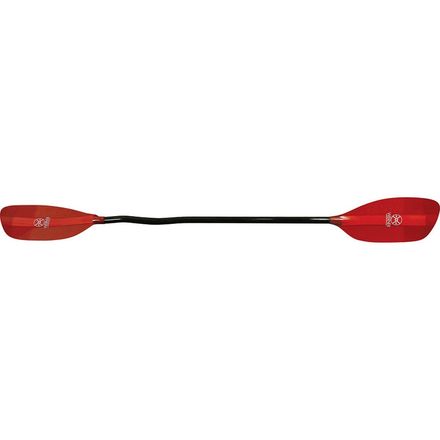 Colors
Description
Run rivers and crush creeks with more power at hand.
Charge through big creeks and rivers with the bent-shaft Werner Powerhouse Paddle in hand. Carbon material keeps the shaft light in your hand, and the bent shaft naturally aligns the paddle grips with your wrists so your hands feel less fatigued. This paddle catches smoothly and generates the massive power you need to maneuver fast and pull through tricky sections of fast-moving water.
Full-size blade features a shape that results in more power and a clean catch that makes every stroke feel smooth and clean
Blade features a slight dihedral shape that directs water away from the blade face for the smoothest feel when you're maneuvering and pulling hard
Continuous-weave fiberglass blade material is super durable for years of use, while the carbon shaft keeps the paddle light
Bent shaft naturally aligns the paddle grips with the line of your wrist so you get more grip contact and your hands feel less fatigued after paddling
Standard Diameter shaft fits hands 6.5 inches or larger
Power, Efficiency, and SMOOTH!
This paddle is wonderful, the large blades give you TONS of power and strokes feel solid. The paddle is light in hand, and with the bent shaft paddling feels easier and more natural. All around this paddle has a smooth look, excellent performance, and bombproof craftsmanship to make it a solid investment for any paddler!
Bend Shaft is the way to go!
Familiarity:

I've put it through the wringer
For all day comfort and mistake-proof rolling, I think the bent shaft paddle is the way to go. This is my second. Even with the fiberglass blade, this paddle is very light, and has great power. I can't imagine every going back to a straight shaft paddle. My other has the carbon blade. You save some $$ with the fiberglass blade and I feel no less performance.
Just got my Powerhouse delivered today, I was nervous at first as the enormous box it came in felt as if it was empty... But it wasn't! Inside was my new whitewater paddle, as light as a feather, strong as an ox this thing seems like the real deal! The craftsmanship is exceptional, no unattractive seams, no defects, just absolute precision.



As I've only just had it for a day I've not had a chance to take it to the water, but I can imagine I will be quite satisfied. Once I've used it and can give an honest opinion of its performance I will update the review more in-depth for potential buyers in the future.
Unanswered Question
Does this come standard with a 30 degree...
Does this come standard with a 30 degree offset feather?