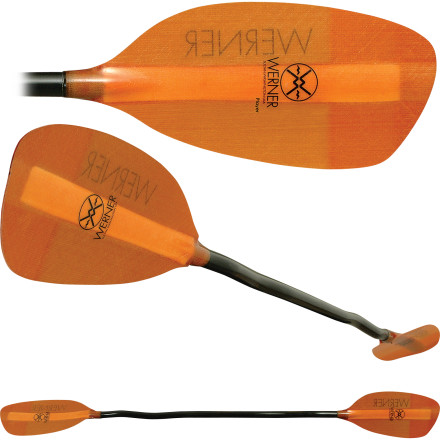 Community Images
Make fun of the river when you're holding the Werner Player Paddle. The mid-sized blades strike a balance between power and smoothness, while the down-turned blade shape ensures that your blades will hit the water fast without hanging up on your boat. Surf holes, cartwheel to your heart's delight, and power in and out of tight moves when you're rocking this paddle from the cockpit of your playboat.
Mid-sized blade strikes a comfortable balance between power and ease-of-use, making it ideal for paddlers of varying experience levels
Blade features a slight dihedral shape that directs water away from the blade face for the smoothest feel when you're maneuvering and pulling hard
Continuous-weave fiberglass material adds durability and strength to the blade
Bent shaft naturally aligns the paddle grips with the lines of your wrists so you get more grip contact and your hands feel less fatigued after paddling
Standard Diameter shaft fits hands 6.5 inches or larger
What do you think about this product?
Have questions about this product?
Shown is the straight shaft which is good but I now regret not getting the bent shaft due to wrist discomfort when it is cold that I don't get when using a bent shaft.
Great paddle, very light which actually makes a difference if you are going to be on the water longer than a couple hours. I actually have the straight shaft version of the player but have noticed wrist discomfort after a while when it is cold. I tried a buddy's bent shaft player and now regret not spending the extra fifty bucks. The fiberglass blades are actually more durable than I expected them to be (maybe due to the thickened blade tip) and the fiberglass isn't too hard to repair yourself if you have to.
Unanswered Question
What is the feather on this paddle?
What is the feather on this paddle?