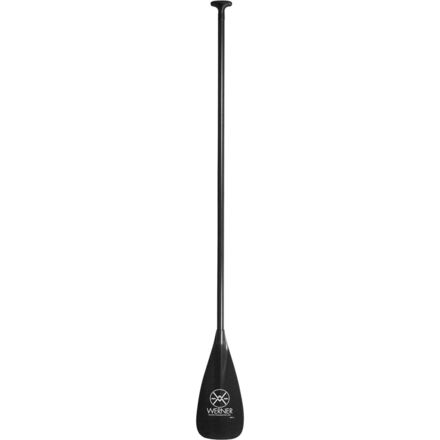 Colors
Description
Full carbon-fiber construction and a buoyant blade for top-of-the-line performance.
The Nitro Stand-Up Paddle is Werner's top-of-the-line versatile-use paddle, featuring full carbon-fiber construction and a buoyant, foam-core blade. The fully carbon construction makes the paddle 3 ounces lighter than the next paddle down the line (the Soul), while offering superb stiffness for optimal power transfer. The buoyant blade floats up at the end of the paddle stroke for more effortless paddling, and its progressive rectangular shape provides consistent power transfer when the paddle is dipped into the water at varying depths, while making it possible to paddle closer to the board for improved efficiency and comfort.

New for this year, the Nitro's grip upgrades to fully carbon fiber, and the paddle features three different blade size options to better suit varying paddler sizes and paddling styles. The small blade size is suited to smaller paddlers, those who prefer a higher paddling cadence or need to be gentler on their joints; the medium size fits the widest range of paddlers; and the full size suits larger, well-conditioned paddlers.
Top-of-the-line, high-performance carbon fiber shaft and blade
Buoyant blade with foam core
Ergonomic carbon fiber palm grip
Very lightweight, fixed-length straight shaft
Three different blade size options
Versatile paddle suitable for fitness paddling, touring, and wave riding
Light
Familiarity:

I've put it through the wringer
I have the three piece for travel reasons.

I sold Werner paddles and I have never been disappointed with their products.

I went round and round on which paddles to get for myself and my wife.
After talking with the people at Werner it sealed the deal. Their paddle shape is the best for a multitude of ways of paddling. Touring, riding waves or fitness. They did the testing and we get their awesome paddle.

Yes, it is worth the price.