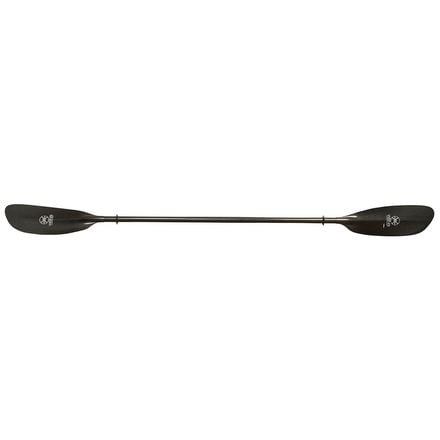 Werner Kalliste 2-Piece Paddle - Carbon Blades/Straight Carbon Shaft
View Larger Image
Colors

Community Images
Description
High performance and low strain.
On long paddling excursions, small inefficiencies can add up to fatigue and pain. The Werner Straight-Shaft Kalliste Carbon 2-Piece Paddle is light and bouncy so your strokes aren't squandered and paddling translates into propulsion. Light swing weight increases your endurance since you're not trying to move a steel Yugo through the water. The combination of jaw-dropping geometry with a perky performance core creates a powerful mid-sized blade to take your on-water abilities to a new level.

The mid-sized Ultimate Performance blades keep the Kalliste light on the scales and heavy on paddling power. Carbon fiber weave covers the foam core at the heart of the paddle. Not only does this design minimize mass, but the foam core helps the blade float out at exit. The asymmetrical blade shape gives your low-angle stroke an immediate bite on the water from the instant the tip slips in. Dihedral stabilizes the blade as you power through the stoke. You know you've hit the jackpot when your paddling pals comment on your flutterless (and flawless) stroke.
Since Werner didn't make the blades super-heavy, it also avoided having to add a spine in the shaft. Instead, the designers used light, stiff carbon fiber for the straight shaft. As a result of the light shaft and buoyant paddles, your energy input is maximized so you can paddle in pleasure, all day long—and still have the strength to reel in a 40-inch striper after a bit of a tussle. The Smart-View adjustable ferrule system lets you feather to your heart's content, regardless of which way you feather. Right or left, the Kalliste adjusts in 15-degree increments. In both light breezes and stiff winds, you'll be able to accommodate the weather. Be it angling on a moonless night or frolicking in feisty surf, your performance kayaking gets kicked into high gear with this lightweight and graceful paddle.

Carbon-fiber straight shaft, 2-piece construction
Standard diameter
Ultimate Performance blade (foam core, carbon fiber shell)
Asymmetrical shape, dihedral
Blade dimensions and area: 52 x 16.5cm, 643sq cm (20.5 x 6.5in, 100sq in)
0/15/30/45/60/75 feather angle, right or left
Smart-View Adjustable ferrule
Paddle lengths: 220cm, 230cm, 240cm
Total weight: 1lb 8 oz
Share your thoughts
What do you think of the
Werner
Kalliste 2-Piece Paddle - Carbon Blades/Straight Carbon Shaft
? Share a...
Posted on
Worth the price.
Familiarity:

I've put it through the wringer
I have used this paddle for up to 30 hours at a time over multiple days in both rough and flat water. The low swing weight and efficient blade shape has reduced my fatigue, aided my form tremendously, and I would imagine has saved me from injury. I can get some flutter from the paddle if I loosen my grip too much - sometimes necessary on multi- day trips, or if I go for too high of an angle. However, this is much less than other paddles I've tried. (I stepped up to this from the Aqua Bound Stingray, which admittedly is more of a universal shape and as a result gets more bite with a high angle dig.) With an efficient low angle stroke, it's a joy to feel the power transfer and to end a day feeling as fresh and relaxed as when I began. In addition to day paddles, I've completed several multi-day trips and expedition races, broken 1/2 inch ice and pushed myself off oyster beds. The paddle has held up well and apart from a few scratches, looks great.

Worth the price
Posted on
Everglades challenge
Drying out in the morning sun after 26 hours of paddling during the Everglades Challenge.