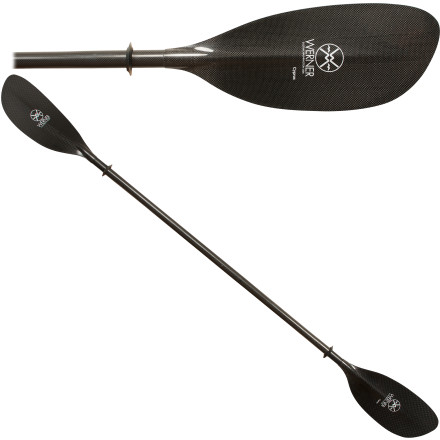 You've invested in a high-performance touring boat, so why are you lugging around your barbell-like old school paddle? Ramp up your paddling power with the Werner Straight Shaft Cyprus Carbon 2-Piece Paddle. Light with low swing weight and stiff from carbon fiber construction, the Cyprus knows no touring bounds. This mid-sized paddle lets you tackle fast-moving rivers, slip over shallow gravel shoals, or throw down a 40-mile day without suffering sore shoulders and wrecked wrists.
Carbon fiber lightens the load, and the straight-laced shaft gives you the ability to freely move your hands without having to stay in the same spot. The foam-core carbon blades up the ante on water displacement without adding weight. Less energy is required to move the blade through the water, maximizing your paddling power. The scooped, asymmetrical 95-square-inch blade slips next to your boat for a tight stroke, with the large tip biting the water on contact. For an efficient high-angle stroke, the ribless back allows for clean, sculling motion. Dihedral blades without friction to fight make it easy to find your rhythm and throw down smooth linking strokes.
Sometimes, touring is like skating right after the ice-smoothing-machine comes through. Other times, the water is lumpier than your favorite crunchy peanut butter. The Smart-View adjustable ferrule gives you 75 degrees of feathering ability, right or left. With the simple click of a button, adjust left or right in 15-degree increments to optimize paddling efficiency. Blade dihedral also economize your efforts by minimizing flutter. Whether you're setting out for a three-week exploration of floes in the Arctic or putting in for a long weekend on the Missouri, the Cyprus won't kill your upper body. You'll have loads of energy for picture-snapping and penguin cuddling.

Straight carbon fiber shaft, 2-piece construction
Standard diameter
Carbon-fiber foam-core blade, curved asymmetrical shape
Blade dimensions and area: 46x18cm, 610sq cm (18.1 x 7.1in, 94.6sq in)
0/15/30/45/60/75 feather angle, right of left
Smart-View adjustable ferrule
Paddle lengths: 205cm, 210cm, 215cm, 220cm
Paddle weight: 1lb 7.5oz