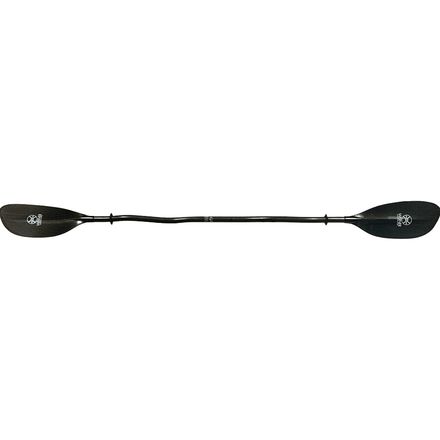 Colors
Description
A light, buoyant feel out on the water.
If your paddling style is about high-angle, fast-paced strokes and quick bracing maneuvers, check out the Werner Cyprus 2-Piece Bent Shaft Paddle. Werner made the blades with a carbon weave and foam for a lightweight, buoyant feel on the water. The dihedral shape and ribless back add smoothness in forward and sculling strokes. A bent shaft means your wrists are naturally aligned for less fatigue and the adjustable ferrule allows for plenty of angle adjustments on the go.
lightweight, strong and expensive
Familiarity:

I've used it once or twice and have initial impressions
The paddle is very light, low swing weight, feels nice in your hands. Super efficient. It paddles like a dream, the blades have a smooth shape that cuts through the water if your skilled with linking strokes. The downside?...the price and the fact that you will feel really bad when you hit a sharp rock on the bottom and put a chip in your really expensive fancy paddle. If your the type of person that pushes off shore with your paddle, or that may bounce your paddle off a rocky bottom, then this paddle is not for you.
I bought the Cyprus after having my Camano snap in two during a surf session. I'd used a friend's Cyprus on a 22 mile trip in the Everglades and was impressed by how much easier it was to use.

I wasn't sure about the bent shaft, but its very comfortable to use and I feel less stress on my wrists. I'd buy another as a backup.
Unanswered Question
Hej Its a shame the shipment to Denmark...
Hej
Its a shame the shipment to Denmark cost about 90 usd ?.. :-(
Have a nice day
Regards Henrik