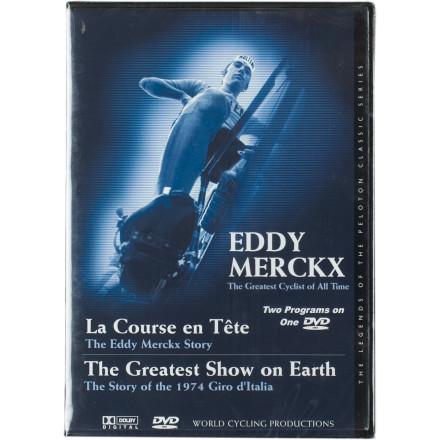 La Course en Tete is not a documentary, because there isn't a bit of narration. Rather, it's an illustration of what Charles Simic said makes a great poem great -- one freestanding image put alongside another then another, and in context of each other they provide narrative. It's a season in the racing life of Eddy Merckx, but it's unlike anything you've ever seen. Put the kiddos to bed, open a nice bottle of wine, and groove on the dark 70's vibe of Eddy Merckx's obsessive world. It's an amazing testament to his life, his dominance, and to the beauty of what a film can be.
The Greatest Show on Earth is a bit less impressionistic and artistic. It's a neat film about the 1974 Giro that's worth watching, but you'll only want to put it in after you've seen La Course en Tete for the 200th time. You'll get two DVD's total, 220 minutes.
Share your thoughts
What do you think of the
WCP
La Course en Tete & The Greatest Show On Earth
? Share a...