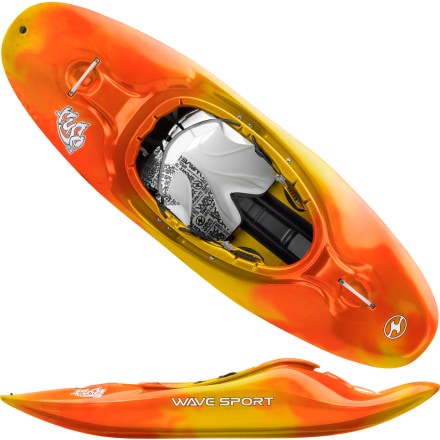 Description
Speed, forgiveness, and fun—a fusion everyone can get behind.
Fast, smooth, and a little loose, the Wave Sport Fuse Kayak blends the forgiveness of a river runner with the performance of a playboat. You're not sure what the day will hold: maybe you'll be slicing through fast, surfy waves or popping through hole after hole and hitting water that's tight and techy. The versatility of the Fuse allows rookie paddlers or experienced whitewater paddlers to crush it all without sacrificing handling or speed. Four boat sizes means there's a volume that's right for everyone.
Thermoformed bulkhead sits between the legs and adds to the structural integrity of the boat, making it extremely hard for the boat to fold in a pin situation
Bulkhead has a curved shape which allows for maneuverability and can act as a vital foot placement when climbing out of your boat should you get pinned
Adjustable seating, thigh braces, and contoured hip pads ensure a perfect fit
Vinyl covering the seat, hip-pads, backband, and thigh braces is also water-repellant, meaning less dry time
Two deep grab handles add to overall safety in a variety of different rescue or recovery situations
Share your thoughts
What do you think of the
Wave Sport Fuse Kayak
? Share a...
KenT
Member since
Posted on
Gender: Male
Familiarity: I've used it once or twice and have initial impressions
Just got WS fuse 48. On time and pristine. I'm a river rat from GA now living in FL and surfing waves that go somewhere. I don't miss the rocks.=) It spins and air screws like crazy. Word of advice though, don't take a sea kayak into 7 foot surf! It doesn't work well at all. Just ordered the right Werner blade from these BC folks. Can't wait for 2 days till I get thrashed again. Great boat. Had Vengeance, Vertigo, RPM, and a couple others. This one is the bomb!
I'm not really sure what I need or want;...
Member since
Posted on
I'm not really sure what I need or want; hell I no nothing about kayaks at all.

I want to learn how to sea kayak, but not touring. I want to be able to ride the waves - ie play. Is this the right kind of kayak? where should I go for lessons or some kind of instructional video?
Member since
Responded on
This kayak is used for whitewater kayaking on rivers.. you know, big rapids and such where you can surf waves and the like. If you are looking to get into kayaking, you can check out several different places...
Parks and Recreation departments- depending on where you live, your local Parks department can actually be incredibly developed and offer extensive programs or even kayak rentals and instruction. The professionals running these operations are usually certified with different organizations and are trained to teach others.
Local stores/shops- I live in Texas and there's a place called Austin Canoe & Kayak that offers rentals for relatively cheap prices. Some will even offer kayaking classes from people who are also certified to teach.
Higher Education- if you're a student or employee, see if your university has an outdoor adventure program. They'll provide all the instruction, gear, and safety training for paddling trips.
Friends- several of my friends started out paddling because others encouraged them to do so and provided instruction.

Those are a few places that come to mind right now, hope that helps!
I'd also recommend kayaking anywhere- even lakes or slow moving rivers. I'm not sure how much you've kayaked but it never hurts to get used to the paddling motion on flatwater!
The most important thing to do is to learn from someone who knows quite a bit about kayaking and river safety. Just like any other outdoor sport, kayaking has many dangers and risks involved. Never kayak alone, always wear proper safety gear (PFD, whistle, etc.), and never attempt anything above your level of experience.
can someone take a picture of the foot and...
Member since
Posted on
can someone take a picture of the foot and knee pads?
Member since
Responded on
Wave Sport has good photos of this on their site, check it out here: http://www.wavesport.com/product_subcategory/index/products/north_american_products/river_play_us/fuse_us/