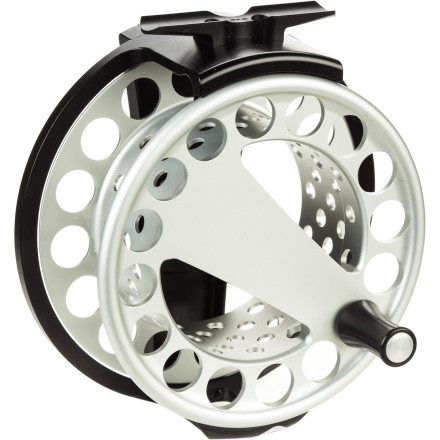 Feel the power of tarpon, yellowjacks, and tuna with the Waterworks ULA Force Saltwater/Spey Fly Fishing Reel at your fingertips. Built for speed, the ULA Force features an extreme diameter that hauls in about a foot of line with every turn (if loaded to capacity), which means you can reel line faster than they can strip it. A fully-sealed conical drag produces tarpon-stopping torque with a silky-smooth feel that you'll love.
Aluminum and stainless steel components offer superb strength, durability, and longevity
Hard Alox finish increases the coating's thickness, reduces porosity, and makes the reel much more durable in the long run
Hard Alox also offers enhanced resistance to abrasion impact and corrosion and a polished, finished look that speaks of quality
Large arbor reel features a spool that's large in circumference and wide, so that line is stored in a shallow layer
Increased reel circumference provides high retrieve rate and eliminates line coil memory
Wide, shallow line layer supplies little radius change as line is pulled from the reel which results in constant drag torque during long runs and eliminates the risk of tippets breaking due to drag force gain
Drag system consists of a pair of precisely matched conical elements which are drawn together with spring tension to produce variable rates of smooth rotational braking
Unique drag system seals the drag completely from moisture, salt, and grit, and since the mass of the drag elements is centralized, the spool's rotating mass is much lower which makes the reel more responsive to light drag settings
Torrington zero-lash roller clutch relies on the locking effect of a number of ramps and rollers to achieve torque transmission so there are no "teeth" or "steps" to break off or wear out
Zero-lash means instant engagement which improves feel and eliminates "spike" that the reel, line, and leader experience when a typical pawl clutch hooks up
Please note: no oil or lubricant is to be used in or around the drag system and may be adversely affected if lubricant is allowed into the drag system
What do you think about this product?
Have questions about this product?
The ULA Force is a killer reel for big game fishing and for throwing a 2-hander. Look for the larger sizes (3.5 and 4) for a traditional Spey set up. The small sizes will do for a light switch 2 hander. The reel handles abuse like no other. It is a workhorse.