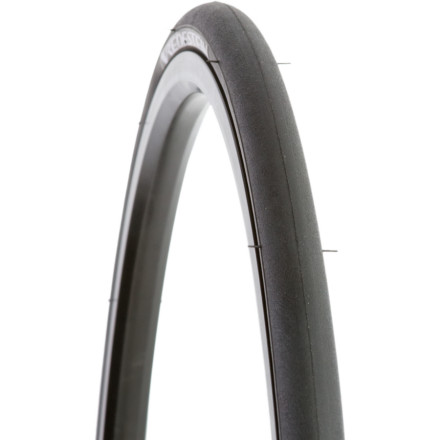 Detail Images
There???s something to be said for a clincher that holds as much pressure as many tubulars???and rivals the suppleness to boot. The Vredestein Fortezza Tricomp Slick uses Tri-Compound Construction for a long-wearing, low-resistance center and softer-compound sides for fast, confident cornering. A Polymide strip rests under the center tread for puncture protection while Vredestein???s CCS (Curve Control System) makes sure the Fortezza Tricomps keep their shape during cornering for consistent feel and maximum grip.
220 TPI and proprietary double overlapped casing for a super-supple ride and minimized rolling resistance

Slick tread provides maximum grip on dry tarmac

Recommended 145 PSI

Does anyone have a weight on these?...
Does anyone have a weight on these? thanks


188 grams for the 23mm +/- a few :) They are awesome !


I have been using Vredesteins since I got back into road riding in the late 1990s. I have tried other tires but always go back to them. The tricomps are the best combination of performance and wear of any tire I have used. Western PA roads are tough but these tires are extremely puncture resistant. Give them a try.
I have a 3.1 Madone and I cannot climb...
I have a 3.1 Madone and I cannot climb hills due to the weight of the wheels and the bike so I decided to get the V Fortezza tri comp in hopes of being a better climber with lighter wheels. Any advice, sign Pearl
Best Answer
It's not the weight of your bike, or your wheels, your 3.1 should have compact gearing, all you need to do is ride more
Although losing rotational weight does make more of a difference than frame weight you do have a very decent bike. Put a climb into every ride and start in a gear that you can sustain, don't start big and move down. On the days you can't ride, put your bike on an indoor trainer and put in a Spinerval, or other, workout DVD. Adding indoor training on the busy days makes the greatest difference.
what size tube should be run with these...
what size tube should be run with these tires?
700 X 23/25mm :) the 23mm is best
This tire is the best clincher around. Run them at 140-150psi and they perform great. Super low rolling resistance, solid cornering, decent wear resistance (I'd sacrifice a little wear resistance for higher performance), and better than average puncture protection. Definitely the most kick ass clincher available (along with the Vittoria Open Corsa).