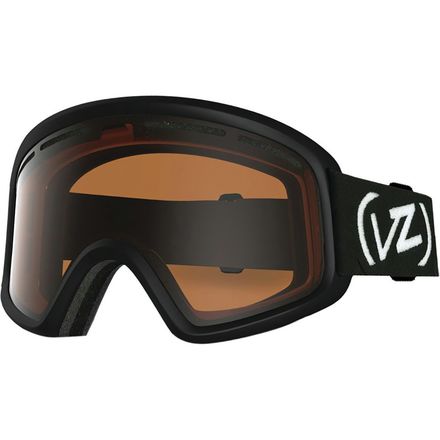 Colors

Community Images
Description
End the injustice.
Kids seem to get shorted a lot when it comes to outdoor gear. It's true that they grow. We get that. But that doesn't make it any easier to avoid hitting a tree when you can't see through a cheapo, single-lens, department store goggle. Von Zipper didn't skimp when it designed the Kids' Trike Goggle, it's the real deal, with dual spherical lenses for fog-free vision with excellent peripheral coverage. The Trike is also loaded with a quick-release rear clip, dual adjustment strap, fleece-lined triple density face foam, and a thermo-molded polyurethane frame. It even comes with a microfiber storage bag.

Dual cylindrical polycarbonate lens
Barricade anti-fog and hard-coated lens
Top and bottom vents
Child-specific frame size
Thermo-injected polyurethane frame
Helmet compatible
Fleece-lined, triple-density face foam
Little goggles built like adult goggles
Rad little goggles that appear to be well built. Double lens, soft foam etc. Bought for my 2 1/2 year old. Although they are probably built for someone a little bigger, they fit him well and stay put. They are nicer than the few pairs of kids goggles that we have experience with.



I like them very much and I may purchase another pair for my daughter who is older.
What size "kid" do these things fit? Are...
What size "kid" do these things fit? Are we talking a 5 year old or a 10 year old?
It is hard to say, but 5-12 year olds should be fine in these. I've even seen some smaller women rocking the Trike.
People say 5 and up; but, depending on your kid's face, they could work on smaller kids.



My boy is 2 1/2 and they stay in place and don't smash his nose/block his eyes etc. They actually appear to fit him fine.
Treat your kid to some style this winter. The Trike is a great fitting goggle for someone 5 years and up. It is basically a smaller version of the Beefy for kids. Same styling and quality as the bigger stuff, just in a smaller package.