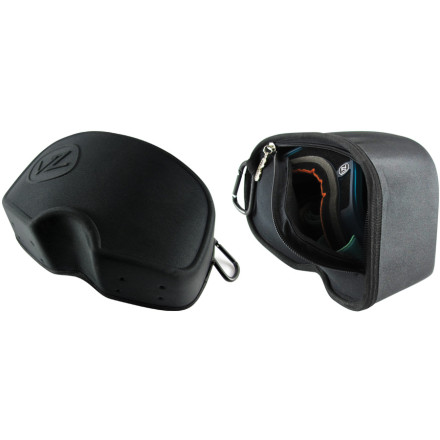 Protect your goggles this winter during transport and storage with the Von Zipper Slim Fit Goggle Case. Made with durable synthetic materials, the Slim Fit houses your goggles and keeps them from getting all scratched up or, even worse, eaten by your dog.
Synthetic material
Zippered closure
Slim-fit goggle case
Is there a separate sleeve/pocket for an extra lens (or two)?
Best Answer
Hey there



Unfortunately there is no separate sleeve/pocket to hold and extra lens - just a compartment to hold your goggles.
Enough room for my goggles
Here's the goggles and lenses I have that fit nice and snug into this case (individually, not both goggles together):



- Electric EG1s and 1 extra lens

- Smith IOS and 2 extra lenses



It's a bit hard to see from the product pictures, but the zipper on the back goes across the top and *only* down one side. So it doesn't fully open and does take a tiny bit of finagling to get your goggle in there. Not majorly difficult, but something to keep in mind if you're the type to worry about possibly scratching your lens across the zipper. My goggle will always go into the bag before it goes into the case, so not a big deal for me. And the back opening of the case is only soft material. The rest of the case is hard.



For me, the size is perfect. I wanted something just big enough to fit my goggles and a few lenses. I didn't want something too big and bulky. I do wish the back was made with hard material, but it's ok, I just have to make sure I pack the case in my snowboard bag right.
Would Oakley canopy fit inside this?
Would Oakley canopy fit inside this?
Yes. It will fit most goggles