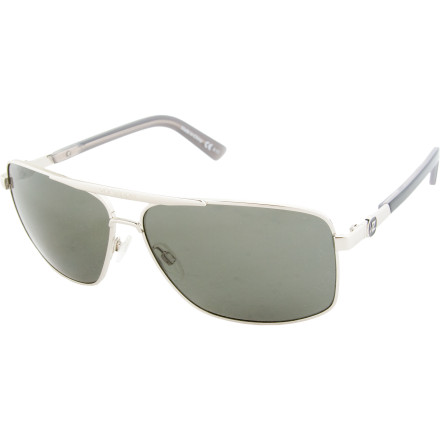 Detail Images
Description
Get real, get a 'stache.
Slide on the Von Zipper Metal Stache Sunglasses. Now sit in your car and chug maple syrup while you caress your facial hair. Good, you're well on your way to keeping the peace. Wire-core temples hook over your ears to secure these sweet aviators to your face so you can pass out for a couple hours running speed traps and you won't wake up to find the Stache hanging out on the floor. On brutally bright days, the large CR-39 lenses give your eyes a break from the sun so you can concentrate on waxing the brim of your mountie lid and determining which party you want to break up when night falls.
I have looked of a good pair of avatior style of sunglasses for my big fat head for a long time and these pretty much fit the bill. The width of the frames is great the size of the lenses could be a little bigger.

My major gripe is all the VZ logos. There is one on each temple and the name printed in full on the bridge in front. After wearing them for a wile I think they might need some customization with the grinder on the logos if you catch my drift.
Sick sunglasses, high quality and pretty durable. Not cheap like most expensive other brands you buy.

Buy these Von Zippers you won't be disappointed!
Von Zipper Metal Stache Sunglass