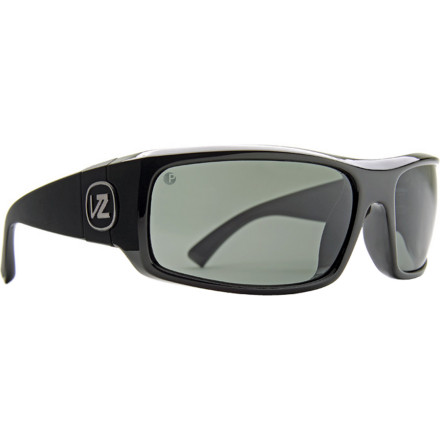 Rock the Von Zipper Kickstand Polarized Sunglasses and pedal away on your low-ride cruiser. As you weave through traffic, these shades' polarized polycarbonate lenses reduce glare from the road and won't shatter into your eyeballs if some jackass opens his car door right before you pass by. The Kickstand's grimalid frame is highly durable, flexible, and has a high memory to ensure a consistent fit that won't stretch over time???these guys won't end up falling from your face every time you look down.
I received these glasses and the side stripe part where the glasses fold, which is gold in the above picture, is actually black on my pair. Not cool, Backcountry, not cool.
The( glass )specifications on the Kickstand...
The( glass )specifications on the Kickstand sunglasses by Von Zipper
not glass. polycarbonate.
I have a medium sized face, and they fit perfect. Hands down best pair of shades I've ever owned. Nothing but compliments from everyone.
These shades are super sturdy and high quality as well as the fact that they are dripping with steeze. Get em'.
Great shades. They are lightweight but very sturdy and they dont fall off of your face when you look down. They look great at the beach or just crusin around. I would definitely reccommend these!
Got these for my little broham...
He likes 'em and they look smokin :o)
I wore them to the beach and the 6 layer polarized lenses were so cool and really makes a difference!