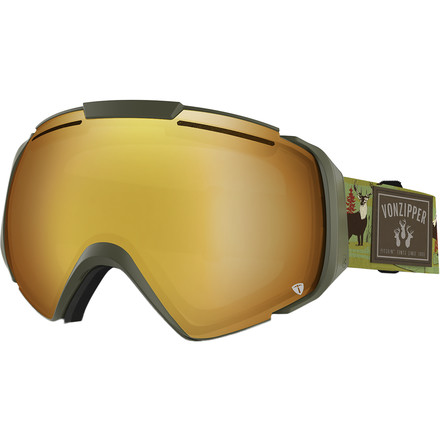 Videos
The Von Zipper El Kabong Goggles have an interchangeable lens system that's so quick and easy, you'll change your lenses more often than your underwear. Get a glare-cutting, bright-light lens for those bluebird days, and light-emitting lens for gray, flat-light conditions. With the El Kabong, you get a free bonus lens for fun lens-changing from the start. These goggles also deliver a wide field of vision from its spherical lens shape and ultra comfort thanks to a flexible injection-molded, ergonomic frame. Anti-fog and hard-coated lens gives you hassle-free sight, and fleece-lined facefoam feels so good against your skin.

These fast-switch goggles also have a dual-adjustable strap to easily accommodate your thin beanie, thick woolly cap, or helmet. Life is all about options.

Presto Chang-O lens interchange system
Thermo-polyurethane frame with triple-density foam
Ergonomic, injection-molded frame
Spherical dual anti-fog, hard-coated polycarbonate lens
Oversized lens with 100% UV protection
Maximum peripheral vision
Free bonus lens
Fits medium to large faces
Polar fleece lining on foam
Dual-adjustable strap
Helmet-compatible
Microfiber bag included
Rrrrrrrrrrr
Familiarity:

I've put it through the wringer
Above is the sound I just finished making after it took me a good 10 minutes to get the strap attached to the frame of these goggles. This system is so flawed. I'm so frustrated. I love the fit. The lenses are great. I have more clarity than any other goggles I've tried. In all other respects I love these goggles. BUT the technology vz uses to attach the band to the frame sucks. Big time. Especially if the strap is snagged at all there's practically no chance of getting the strap to slide back on smoothly. The lens changing technology used is really awesome though. Super quick and easy. But they really need to either add a lock in feature on the strap or change the method used completely. It really blows when it's 10 degrees outside, your goggles detached themselves only because you pulled them up for a second, and now you're in the snow muttering choice words to yourself because your fingers are freezing and you can't get the loop of the strap to catch in the hole. For what they cost I expected a little more from this company. I've had VZ goggles in the past that were I absolutely loved. I'm bummed I jumped the gun here and bought 2 of these. Hopefully they'll make next years model a little more user friendly.
dissapointed
Gender:

Male

Familiarity:

I've used it several times
used these just a couple times so far and the strap comes off the goggles over and over and over again. the design is faulty and it allows the strap to pop off the plastic hook on the goggle whenever you are putting them on/taking off/adjusting. I have to carefully put my helmet on with the goggles already on it and I've only used it a few times! At this point cannot return these so I will have to deal with it. NEver buying these again I was expecting more from almost a $200 pair of goggles. I will however say that except for the always popping band, the goggles do work well and don't fog. Unfortunately I cant enjoy as much as if they stayed on lol
JUNK
Familiarity:

I've used it once or twice and have initial impressions
Look good thats about it. Both lenses had water in between the lenses by the end of the day. Straps kept popping off the goggle when putting on, clear lens kept popping out from the frame on the nose, (unlike the tinted lens which stayed in just fine). Water/ice seemed to just get caked on outside of lenses no matter how well you'd wipe. I've had von zippers before and never had so many issues.
Von Zipper
Familiarity:

I've used it once or twice and have initial impressions
These goggles just turned up in the post and look killer. They fit pretty well but are a little loose around the nose (might just be my face size) Looking forward to winter so I can try these out.
Heyo, what spare lens comes with the black...
Heyo, what spare lens comes with the black satin / black chrome? Thanks!
Hey Paris,



Thanks for your question.



The spare lens that will come with that variant will be a yellow lens. I hope this helps, have a great week!
hey bud, what spare lens comes with the...
hey bud, what spare lens comes with the goggles, i would possbly like the nightstaker blue. cheers trent
Trent,



The spare lens that comes with these bad larrys should be the Yellow lens.



Unfortunately selecting the second lens isn't an option other wise that would be wicked awesome.



Jared D.

Gearhead

800.409.4502 ext 4055
Can I buy the Quasar Chrome lenses as an...
Can I buy the Quasar Chrome lenses as an extra pair?
Unfortunately it looks like we do not have the Quasar Chrome lens available to purchase as a replacement lens.
Hey ! Can I buy the frostbyte lime goggles...
Hey ! Can I buy the frostbyte lime goggles with the gold chrome lens instead of the quasar chrome lens ? Ty
Outstanding field of vision, comfortable, but most importantly no fogging whatsoever. I prefer to wear a buff pulled up over my nose but this was impossible with all previous goggles as they would fog instantly, not the El Kabong's. At first the Presto-Chango system was more like Frustrato-Chango but it only took a few times to get the system down and swap these lenses out pretty quickly. Like Jacob mentions above this system is very solid with no gaps. Oh yeah, and as these fit great with the K2 rival pro per my original just-received-in-the-mail-got-all-torqued-up-and-put-on-my-goggles-and-helmet-and-walked-around-the-house review.



When I purchased these I was hemming & hawing about the El Kabongs or the I/O's, since it seems everyone and their mother has the I/O's and I generally attribute the widespread popularity of a product to its value...that, and marketing. I loaded the I/O's in my cart and just as I was about to click complete purchase I had a flashback to when I was but a child and my father instilling in me one of life's great lessons on following the masses, "Son, if everyone was getting their dong's pierced would you?" No, I wouldn't, and that's why I purchased the El Kabong and couldn't be happier.
Everything You Need In A Goggle
Familiarity:

I've used it several times
With Utah's variable conditions, I love having the convenient quick change system of the El Kabong's. I don't think it is the fastest lens change system in the game, but it seems like the most solid. I've noticed a lot of gaps and fogging from other seamless frames and quick change systems, but Von Zipper's has a great seal and I've never had an issue with fogging.



Besides that, I love the sleek look and field of vision you get. They are not too oversized once on your face, and the clarity and peripheral view is deceivingly huge. For a slim look with an epic view, I'd highly recommend the El Kabong's.
Smooth Operator
Familiarity:

I've put it through the wringer
I rode the El Kabong goggle about half the time last season and quickly fell in love with the sleek frameless design and styling. All El Kabong goggles come with a Yellow replacement lens, and swapping out the lenses is a piece of cake. Just push the buttons on the side and PRESTO you are done. I wear this with the ProTec B2 Helmet and it fits great. No gaps.

Overall the El Kabong is a great goggle for anyone looking to add a little style to their tech kit.
How does this goggle compare to the Skylab...
How does this goggle compare to the Skylab in size and field of vision? Compared to the Smith I/O? Compatibility with K2 Rival Pro helmet?

Thanks
These have more peripheral with the kabongs, and a wider fit across the nose. the field of vision is comparable with the I\O but fit more like the I\OX. The I\O don't fit my face. I hope that helps?
Henry- These will have about 20% more vision than the Skylab, but they aren't that much bigger in size. The El Kabong is basically a rimless version of the VZ Feenom and will fit just like the Feenom. They are slightly larger than the Smith I/O and should fit just fine with most helmets. Hope this helps.
i just got mine in the mail today and they are VERY compatible with the Rival Pro because that's the helmet i have too.
I've got a Bern helmet with a brim, think...
I've got a Bern helmet with a brim, think these bad boys are too big to fit well? I've had EG 2.5s that worked perfect, but they are pretty flat on the top.
Similarly shaped to the Smith I/O and EG2s, I do not recommend using the with a brimmed helmet, I have seen people do it with all three models but its just not comfortable and you can never really habituate to having them one your face. If you are dead set on wearing one of these fish bowl style goggles (personally I love the added range of vision and the over all look) then I suggest upgrading to a brimless helmet in the near future as well.
I've ridden these with a Bern Helmet with a brim and they are fine. They are just about the same size as the EG 2.5 and they are the exact same size as the Von Zipper Feenom, just with better vision and the quick change option.
which bonus lens comes with these? assuming...
which bonus lens comes with these? assuming a low light lens but theres different kinds...? looking at the frostbyte/black chrome model
Best Answer
Hi,

The bonus lens for this pair will be the Yellow lens- great for night riding, and very low light conditions!
VonZipper El Kabong Goggles
Do these goggles fit snug on the Smith...
Do these goggles fit snug on the Smith Holt helmet?


From my experience with the Holt helmet, Von Zipper goggles usually don't have the snuggest fit. Not surprisingly, Smith goggles integrate very well with the helmet and fit nicely. My old Oakley goggles also fit pretty well.
It depends on the helmet. I've tried these with the Smith Maze and Holt and they fit fine. If they don't fit with your helmet you can always return them.