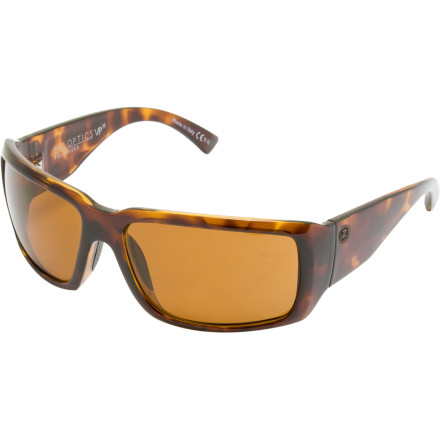 Detail Images

Videos
You may be heading into the comfort station after a rough day for repair and recuperation, but at least your eyes will be in top shape when you've sheltered them behind the Von Zipper Drydock Sunglasses with polarized Meloptics lenses. The new Meloptics technology infuses the lenses with synthetic melanin (yeah, that stuff that gives you a killer tan) to provide the ultimate in UV protection and crystal-clear vision. When you're protected with the equivalent of SPF140 protection to our eyes, worries about long-term eye damage and wrinkles (c'mon, admit it, you think about them) disappear.
Glaricide polarizing filter eliminates glare and haze and enhances contrast
Base 8 lens curvature hugs your head for a wrap-around fit
Kickback coatings repel water, smudging, and scratches
Nickel silver hinge offers strength and durability
What do you think about this product?
Have questions about this product?
VonZipper Drydock Sunglasses - Meloptics
Unreal Clarity- Cuts thru the haze
Von Zipper's new MelOptics polarized lenses are nothing short of amazing. I've been wearing the MelOptics in the Elmore frame for about 6 months and they are by far the best sunglasses I've ever owned.
All VZ MelOptics lenses feature a synthetic melanin coating that blocks 97% of blue light and makes them UV500 rated (most glasses are UV400.) The MelOptics lens also acts like SPF140 for your eyes. Keeps the harmful rays out and wards off crowsfeet and premature aging around your eyes.