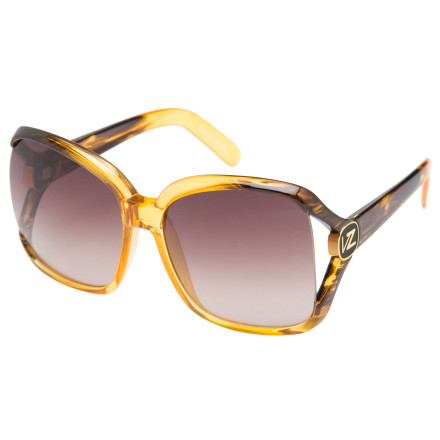 Detail Images
The Von Zipper Dharma Sunglasses have a cute style that will enlighten your day. Shade your eyes with the Dharma Sunglasses to you find your chi and glide through your universe. These women's-specific Von Zipper shades' oversized shape and sleek lines ensure you'll see your path clearly.
The dharmas are a super comfortable fit and they look great. They are def the bigger Olson twin look but if that is what you are going for they are perfect. I got the black ones and wear them almost every day!
If BIG is what you want, these are for you.
I have an average size face and these were HUGE. I normally like my glasses oversized but these were ridiculous. Love the style, qualiity though, again just too big. I had to return them. Great service, easy returns and fast shipping with Dogfunk as always.
these glasses are by far my favourite so far and im VERY picky when it comes to buying sunglasses they need to be a certain size and have a certain look and these definitely are perfect!!!
very lightweight and i get compliments on them everywhere i go:)
love the Dharma sunglasses!
the Dharma sunglasses are super nice. i have a medium size round shape face and it looks perfect on me. these sunglasses make my face look less round. love them....definitely recommend these!
They're super hot they don't leave dents on your cheeks. I have a fairly small nose, but I still felt they rested on my bridge instead of resting on my cheekbones. They have fallen off my head and didn't break or even scratch. I get compliments on them all the time.
These sunglasses lasted me just under two years. They are super durable; The frames never bent and the lenses never scratched easily. The only broke because I stepped on them and frames broke and they are very hard to fix.

I got tons of compliments on them and would definitely buy another pair.
they broke on the frame and the lens popped out.
My dad super-glued them back together
, ☃bcs_badge_alumni_label☃
Flashback
These are definitely not for everyone, but are perfect for pulling off the Dynasty look! The lenses are larger than I imagined, but the sunglasses are lightweight considering.