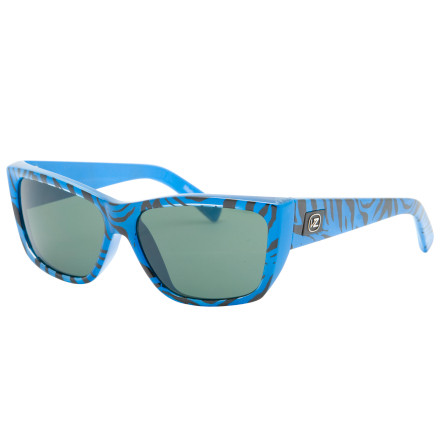 Detail Images
When you feel a bit down and out, your eyes tired from another hard day, look to the Cookie. Whether you seek the chocolate chip, the black and white, or the snicker doodle, the Von Zipper Women???s Cookie Sunglasses shield your weary eyes and make the future seem somehow sweeter. Von Zipper gave the Cookie a cat eye frame to flaunt your swanky style while you ponder the many choices. The Base 6 lenses protect your peepers from UV light and resist scratching, and the durable nylon frame holds up under pressure.
has anyone seen or got black & white spot...
has anyone seen or got black & white spot von zipper cookie sunglasses
Those have long since been discontinued, so your best bet might end up being eBay, I'm afraid. How about the Spazz? They're a little different than the Cookie, but have some really fun colorways, that I'm sure will strike your fancy.
* http://www.dogfunk.com/vonzipper-spazz-sunglasses
I have a medium to small face size and these shades were huuuge on me. They looked like a XL pair of guys sunglasses. If you have a small face I would advise against these. Its a bummer though because they are really nice shades.
These are super cute shades. The slight cat-eye makes me feel a little like a pin up or an old school Barbie. I have them in the cyan safari colorway. Nothing sassier. GT and Von Zipper never disappoint.
Got these for my lady, and man was she happy. They are really nice lenses, great optical clarity, and good light filtration. The Cyan Safari is a little darker than in the pictures, but not much. Super chill looking for hanging out or road-tripping.
I just got a pair of the VZ Cookies in the polka-dot ... and OMG amazing! The fit on these things is great, plus they are so cute! The cat-eye-esque frame gives a little more spice to your day than just your normal part of shades, and from a company like VZ, you know you wont be disappointed in the quality.