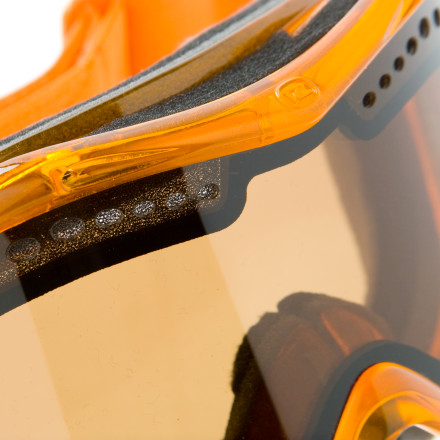 Detail Images
From pristine, hand-groomed lips to the winter version of off-trail bushwhacking, the Von Zipper Bushwick Goggle offers a superb blend of looks and top-notch visibility. And not only does the articulated hinge help reduce temple-pressure when worn with a helmet, but the shape of the frame features slanted upper and lower corners that creates a steezy look and dynamite goggle-to-helmet fusionosis.
Somebody needs to vouch for these so I guess I will. Been using these for 6 seasons and they held up fine. I recently upgraded to a more expensive kind, but so far I'm not convinced that it was worth the extra money. Should have probably just bought a new lens and kept on rocking. These goggles are SOLID. They have all the features of higher end goggles - nice wide visual range, triple foam with a micro-fleece layer, swiveling outriggers for pressure distribution and helmet compatibility, superior fog-busting ventilation with those front vent holes - seriously they never fog up on me EVER - and they're sturdy. I never had to worry about knocking these around unlike with higher end goggles where I have to constantly stress about them getting scratched and whatnot. Lenses for these are cheap too.

Plus they look cool. They have a certain attitude about them. I think 'steazy' is the right word. These are the goggles for someone who knows what features are key without wanting to blow extra money. You won't miss out on much with these over more expensive goggles. Perfect for a backup which I will be keeping them around for.