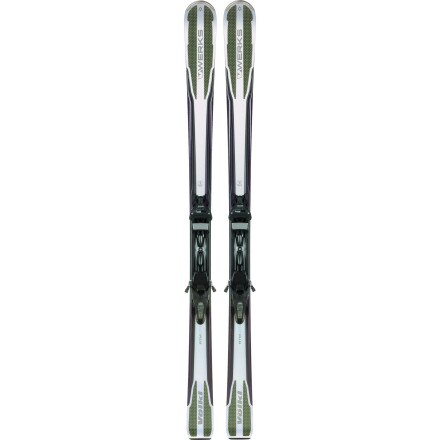 Videos
Description
Fly over the snow and down the hill without a second thought.
When the urge to fly, to glide above the world on whispers of wind, hits, grab your Volkl V-Werks RTM 84 Ski with iPT WR 14.0 Binding. With this setup, you will soar over freshly groomed and freshly fallen snow with grace and ease. A new entry in the V-Werks family, and 15% lighter than the regular RTM 84, this hard-carving ski has more innovative technology than most fighter jets and is a bit more versatile, too.
Volkl's full rocker design plays a large role in the easy handling of the V-Werks RTM. Volkl matched the flex and sidecut with the gradual bend from tip to tail, so you get complete edge contact through turns. Don't worry about switching up your skis if the hill gets a coating of powder, either. At 84mm underfoot, this ski tolerates a bit of virgin powder.
Like a sandwich cookie, the best stuff about this ski is in the middle. A combination of poplar and paulonia compromise the Xtra Light wood core. Hollowed-out channels on the bottom of the core further reduce weight without sacrificing an ounce of responsiveness. A thin layer of titanium alloy bookends the wood core, enhancing stability and power. Metal Tex Hybrid construction uses a combination of metals to reduce the weight typically associated with cap-sidewall designs, while reaping the dividends of both technologies: torsional rigidity, impact resistance, and enhanced edge control. Reinforcement channels go over the sidewall and edges, increasing support along the outside of the ski to give you greater control and reduced chatter.
The lightweight iPT Hollow-Tech binding interface acts as an energy transmitter, so whatever power you put into the turn gets passed along to the ski. The iPT Wideride 14.0 D V-Werks binding is the result of cooperating geniuses between Marker and Volkl, and is your means of communicating with the ski. Because the RTW V-Werks is 84mm underfoot, a traditional binding won't effectively talk with the entire ski for the simple reason they are too skinny. The iPT Wideride provides 30% more surface contact between the ski and the binding. Add in the fact the binding is mounted closer to the edge of the ski, and now you have a tight line of communication with your ski. With less lost in translation, the ski becomes more agile, responsive, and easier to control
Full rocker (smooth, gradual bend from tip to tail)
Metal Tex hybrid constuction (Titanal, aramid, carbon fiber)
Sensorwood Xtra Light core (paulonia and poplar, cored-out bottom channels)
84mm underfoot
Motion iPT Hollow-Tech binding interface
rMotion 14.0 D V-Werks binding included
Share your thoughts
What do you think of the
Volkl
V-Werks RTM 84 Ski with iPT WR 14.0 Binding
? Share a...