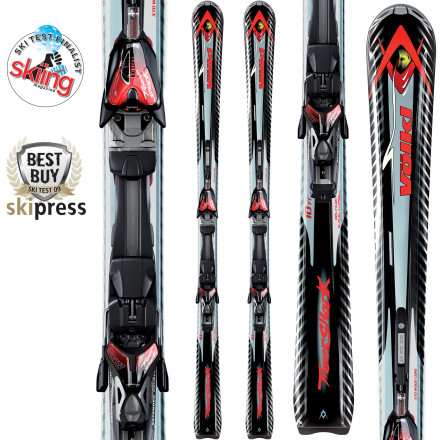 Volkl Tigershark 10 Foot Power Switch Alpine Ski w/ Motion iPT 12.0 TS Binding
View Larger Image
Community Images
Are you going to get any more sizes in? ...
Are you going to get any more sizes in? I need the 154s.
I am sorry we are not getting any more in.
These are my go to sticks for daily use ski patrolling in the icy east. These ski's edge like nothing I've gone downhill on before. I can lay down perfect arcs on the iciest manmade snow you've ever seen riding the 'sharks. And that means when I'm driving a sled with a 250lb patient downhill on boilerplate snow, they can rest easy cause I'm on the 'sharks.
These ski's are so much fun on groomers all I want to do is turn. My favorite part of the day is opening the mountain on fresh corduroy riding my sharks and looking at my tracks on the way back up the lift. I wouldn't recommend them in the pow though. They're just way too narrow for that.
Hey YCM. Unfortunately, we cannot ship Volkl products outside of the US. I do apologize for this issue.
Ultimate Eastern Front Country?
Replaced my 4 year old Volkl 6 Stars with these skis last year (March 2008). Did not want to give up the stability and edge hold of those skis but was looking for something with a shorter turning radius and bit more forgiving. I hoped the switch would give me a lively, athletic ski in the morning and a more forgiving ski in the afternoon.
After 10+ days on these skis, I am a big fan. They ski as billed - and met my goal. On groomed or hardpack, they are quicker edge to edge in 168cm than my 175cm 6 stars and they still hold everything on eastern hardpack and ice, even at speed. But they also soften up with the flip of the switch and give a more comfortable flex for bumps, 8" to a foot of new snow, or just a mellow afternoon. I've read the critiques about the switch being too gadgety but for my money, I think I got a very versatile eastern ski thanks to the switch. It is like having two skis in one and I recommend them highly to anyone with goals similar to mine.
These are my one-ski solution for eastern front country - possibly the last pure alpine ski I will buy. I am 6'1" 190lbs, 53 year old advanced/expert who spends about 1/2 time lift served and 1/2 time backcountry. I have a pair of 175 cm Movement Chamans for alpine touring here and in the Alps and Atomic R:EX in 180 cm for backcountry and deeper snow - both with Freeride Plus bindings. I am so happy with the lot of them that I can't quite justify a pair of Gotamas or Katanas for out west...at least not yet.
Unanswered Question
Hi, my Q is do you know why this year's...
Hi, my Q is do you know why this year's model with the power switch was sold without the piston, and why they are going back to it next year?Thanks, Dave
Unanswered Question
How does the Tigershark 10 compare to the...
How does the Tigershark 10 compare to the Head Xenon xi 10?
I have a set of Volkl supersport 4 stars,...
I have a set of Volkl supersport 4 stars, how will this compare to skiing a Volkl tighershark 10 ft with a power switch, both lengths are 161 c,
This is a pretty stiff ski, great for an advanced all mountain skier. It is a step down from the racetiger. I think that this would be a comfortable transition up from the supersport. This is also a very responsive ski on just about any kind of snow, in any part of the country. The sidecut is very good all over the mountain. As I'm sure you already know, you can't go wrong with Volkls.