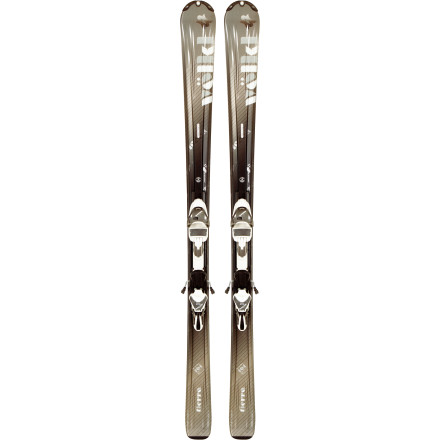 Volkl endowed the Women???s Tierra Ski with Attiva eMotion iPT 11.0 Binding with an assertive shape, extended double grip construction, and tough sensibility that takes expert ladies down any line on the mountain.
Traditional camber profile offers familiar and reliable edge performance
Wood core increases durability, longevity, and provides a smooth and consistent flex pattern
Torsion box construction increases stability underfoot, while decreasing swing weight in the tips and tails
What do you think about this product?
Have questions about this product?
I am looking for a high performance ski,...
I am looking for a high performance ski, that can handle the the steeps & trees at Mad River Glenn, holds an edge on hard pack eastern slopes with ice patches, is nimble on the bumps, floats on Alta powder, enjoys the steeps of Snow Bird and doesn't chatter when flying down a hard pack steep slope - is this the ski for me? If not, is there another ski for me?
Hi Nik, Based on input from two friends who have used this ski... It is a high performance ski and will make tracks on and off piste; ice or pow. this ski likes to go fast but it is a heavy ski and not so nimble in the bumps. My friends think the K2 Lotta Luv/Superstitious is more refined and forgiving ski that will go everywhere you take them and leave you with a smile instead of exhausted.
Hey Nik,



That sure is a whole lot of wishes for one ski! Unfortunately nimble in bumps and floating on powder mean you are looking for two opposing characteristics.



The small turn radius and generous sidecut mean these Tierras will be awesome and nimble for carving, bumps and ice but they will not completely amaze in powder, I fear. The narrow 78mm waist means you are going to find yourself sinking rather than floating. They will suffice,but you certainly aren't going to see the floatation and surfy feel you would get with a fatter ski (say 80-90mm + underfoot).



If you spend most of your time back East, I think this would be a great fit for you. Why not save your baggage fees and demo some fattys out here when you visit Alta and the Bird, it could be life changing!