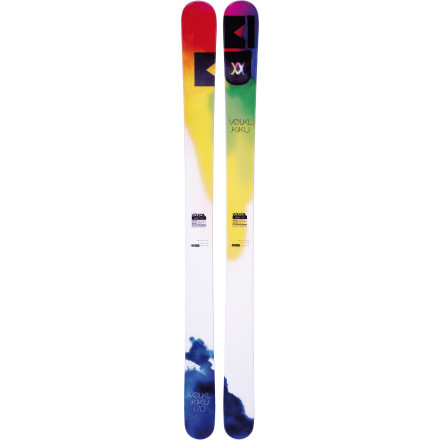 Videos
A mid-fat waist and torsion box wrap give the Volkl Kiku Ski quick edge-to-edge power and control, and the wide tip and Full Rocker profile make the ski feel a hovercraft on deep pow. It features a wide-radius sidecut for high-speed stability and arcing turns top to bottom; and the carbon reinforcement silences chatter on those long run-outs. You're probably thinking, 'But that sounds like an all-mountain ski,' and you're right. Just don't leave the Kiku in the garage on a powder day; its 107mm waist makes it the girthiest ski in Volkl's women's freeskiing lineup, and the ski most eager to get after the fresh stuff.

Full rocker profile
Power/Tough Box construction
Vertical sidewalls and internal torsion box
Multi-layer Sensorwood vertically laminated poplar and beech core
Powered by Carbon reinforcement
What size Volkl Kiku should I get. I am 5'2", 118 lbs, intermediate (working on becoming more advanced) skier that skis both deep powder and groomers.


Sounds like the 163 would be perfect for you!
My wife is a quickly improving intermediate, 5'0" 110lbs. She demoed the Kiku in 154 last year and loved them. I was dumb and never checked where the tech set the bindings, but I'm assuming on the 0 line. Any mounting recommendations on these? I haven't received them yet but they appear to have marks for a couple different locations. This will be her everyday ski for the PNW with lots of (often heavy) snow. Thanks!
Pretty much all demo skis would be mounted at boot center! I have the Kiku + Marker Griffons and boot center is perfect!
I have been skiing the volkl 4 star since they came out in a 162. I am 5'7" and 115, advanced/pretty aggressive skier. I kind of want a short ski for trees and bumps - any recommendations for length? Will 154 be too short? Also, if I do a lot of east coast skiing (e.g., lots of hard pack), will this ski be a mistake?
Hey Julia,

The Kiku is my everyday, all-mountain ski and I LOVE it. I'm 5'6, 130lb and I ski the 170cm. On hard pack, it will ski a little shorter because it has full rocker and a faux twin tip. I think it handles great on groomers, but coming from the 4 star you might not feel the same way. I think the 154 would definitely be too short.

Shoot me an email if I can help recommend some other options!

Lfeasler@backcountry.com
i currently have women's volkl attiva 4 star 161cm. i am looking into getting a more versatile ski such as the volkl kiku. at 5'8" is the 178 cm probably too much of a leap in change in length? i'd love to try these out but don't know where i could do it, don't live near a good mtn.
Hey boot2bonnet,

A lot of this will depend on your skiing ability and your skiing style. If you prefer a shorter ski so you can easily make turns in tight trees or in the bumps you may not like the 178 length.

If you are a strong skier and like to ski fast while arching larger turns then the 178 would work for you. Coming from a shorter, narrower ski like the Attiva you will notice these skis take a bit more persuasion to get them on edge. However since these skis are fully rockered they will ski shorter than a traditional camber ski.

If you are looking for a ski that can do it all from groomers to powder and everything in between this is one of the best options on the market. It just may take some getting use to. Stepping up from the Attica to this you might find the 170 to be a better length for you unless you feel the Attica is short in the 161 length.
Get em while you can
Familiarity:

I gave it as a gift but have feedback to share
My girlfriend replaced her everyday (110 mm ish in waist) ski with unnamed backcountry touring ski last year and hated it. I quickly sold those and got her a pair of arguably the best women's skis made. She loves the Kiku! Every girl I have spoken with that owns these skis loves them. Get them while they last, they are discontinuing.
Great Woman's ski
Familiarity:

I gave it as a gift but have feedback to share
I got this ski for my sister, a hard charging Telluride and she absolutely loves it. She skis it on everything - groomers, bumps, chalky snow and naturally powder. She has nothing but rave reviews. And, to top it off, she really appreciates the new graphics.
What have they changed on this ski versus...
What have they changed on this ski versus one of the original Kikus? Comparison to samba other than width??
Best Answer
The Samba and the Kiku are a bit different. Samba's have traditional camber underfoot while the Kiku is fully rockered. You will notice much better performance on groomers with Samba because of the camber and narrower waist and smaller sidecut (it turns quickier). It's a slightly more versatile ski than the Kiku. You are going to see better flotation with the Kiku in powder due to the fatter girth and rockered shape.
Best womens ski on the market, hands dow
Familiarity:

I've put it through the wringer
Finally an aggressive female ski! I love everything about this ski. It rails with power on groomers, with a rockered profile it wiggles in the trees, steeps and bumps and holds up to high speeds. It's the perfect combinations of playful and agile while holding up stiff and strong. Also, I love that it comes in a 178 for the tall ladies out there! This ski is a must have for intermediate to expert female skiers. You will love it!!!
can someone compare to Rossignol Savory...
can someone compare to Rossignol Savory 7? Looking to buy these as a gift for my wife. She has rented the Kiku's in the past and has loved them. I was thinking she may prefer the Savory's because they appear to be softer possibly more forgiving? Any insight would be welcome. Thanks
My wife, an non aggressive expert (5'7", 110 pounds) has skied the Rossi line and the Volkl line, and she far prefers Volkl.
Best to let her Demo them before you buy them.