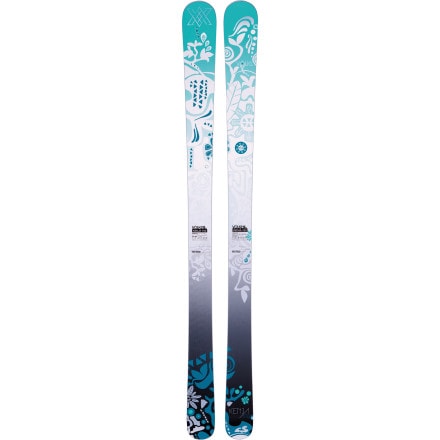 Videos
Description
Go all over the mountain without a second thought.
The Volkl Women's Kenja Ski is a fun-loving ski that indulges in powder and relishes ripping down groomers, whether the run is green, blue, or black. A skinnier version of the Aura, the Kenja is only 87mm underfoot. While advanced and expert skiers will make the Kenja the master of any domain, intermediate skiers won't be disappointed with her smooth ride and on-snow spryness. Despite her pretty face, the Kenja takes no prisoners on the mountain and has little tolerance for sloppiness.
Early rising is only good when it relates to a ski rocker profile. The Kenja is an early bird, with an early rise tip and traditional camber profile for the remainder of the ski. This profile provides you with powder-puffing ability and corduroy-carving capacity without sacrificing control or speed. Snake into a turn, prowl through powder, and be the goddess of groomers on the Kenja.
A lightweight Sensorwood core consists of vertically laminated poplar and beech woods. Vertical lamination provides longitudinal stability over roller-coaster traverses, and titanium alloy sheets on top of and below the Sensorwood core provide stability and dampen vibrations for a smoother ride. Then, Power Construction wraps it all in a fiberglass case, combining traditional sidewalls with a torsion box so you have side-to-side stability, grippy edges, and a smooth ride.
Early-rise tip, classic camber profile
Sensorwood Light core
Power construction (vertical sidewall, torsion box)
Titanium alloy sheet reinforcements
87mm underfoot
Share your thoughts
What do you think of the
Volkl Kenja Ski - Women's
? Share a...
I currently ski a 161 cm volkl (old 5...
Member since
Posted on
I currently ski a 161 cm volkl (old 5 stars). Demoed a 156 Kenja and liked them. But thinking of 163 cm, might be better, but would like some feed back. Height is 5'5", approx 160 lbs, but decreasing in weight, and aiming for 135 lbs. Aggressive skier, with strong leg powder, love all types of terrain, but these days, a little slower in bumps. Is the longer length a better choice, or do these skies ski fine at the 156cm level. Your views are all welcome.
Member since
Groups:
Best Answer
Responded on
Greetings !

I am 5'3" and 120lbs expert, aggressive skier. I wouldn't hesitate one second in selecting the 163cm (for me).

If you've got strong legs you will have NO problem on the 163cm Kenjas.

Keep in mind the rockered tip will also slightly decrease the effective edge of this ski, making it feel a little shorter than the actual length. I would absolutely recommend the 163cm for your height, weight and ability level :)
Member since
Responded on
Agree with Lexi above. My wife is 5' 6" and 138lbs. She had a 163cm Kenja for four seasons and just recently bought this years version and still in the 163cm. She doesn't want any other size. It might take awhile to erase the 156cm size in your head, that light quickness is hard to beat, but in the long run for all conditions you will enjoy the 163cm.
Member since
Responded on
Thank you so much for your input Lexi and Skifreak. In March I am hoping to find some place that has 163 cm to demo for my final e-value. But with a 5'6" 138 Lb review sounds like a lock in for me at 5'5" trying to and reducing my girth down to min of 135 lb. with strong leg power. and Lexi at 5'3" 120Lbs I think I can narrow in on these skies. Thank You for your input and thoughts. PS I just found that my current skies are de-laminating at the tails. So who uses the tails of their skies? Well all in all I thank you both for your input and considering these as my new skies. Thank You again for your help.



Member since
Responded on
I bought an early version of Kenja in 156cm after owning a 163cm Aura for a few years. I'm an aggressive skier, 5"4 and weigh only 105lb. I have no problem skiing 163cm Aura anywhere but in the bumps, and got Kenja for spring time skiing. If you are planning to own just one pair for everything, I would recommend a 163cm!!
One of the best skis I've ever owned
Member since
Posted on
Familiarity: I've put it through the wringer
This is a great ski that loves to turn and will go just about anywhere on the mountain. This is my primary ski for ripping and ski instructing so I hammer it 30-50 days a year. I still love them even after 5 seasons. You can't get lazy on this ski but if you like to hit the hill hard and have a ton of fun this one is for you. They are not as grippy on the hard pack / ice as I would like but I have them tuned an additional degree and that satisfies most of what I need. I will most definitely ride this ski until it dies, which won't be anytime soon since it is a Volkl. There have been some serious core shots along the way but this is one tough product. FYI - I'm a 50-year-old advanced / expert with 3 sets of skis but the Kenjas are what I ride most often. LOVE THEM.
Volkl Kenja Ski - Women's
Member since
Groups:
Posted on