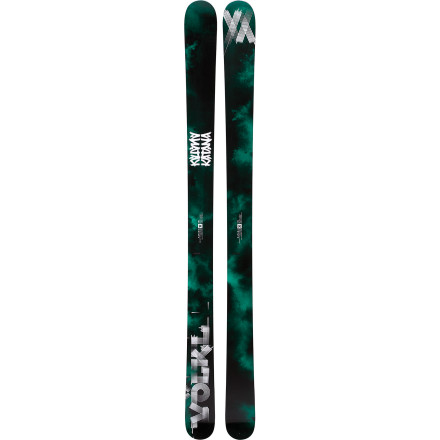 Videos

Community Images
You want stability? With the Volkl Katana Ski, you got it. A low full rocker profile brings the liveliness in a bit, and the vertical sidewall construction and vertically laminated full wood core puts strength and power on tip-to-tail. This is the most stable big-mountain ski Volkl makes. Fat dimensions and the full rocker ensure floatation in the hardest-puking storms. And while it's nimble enough for snaking though tree stashes, this plank with double-layer Titanal reinforcement really wants to straightline big mountains, lay down huge, rocketing arcs, and stomp landings. Just like you do in your dreams.

Full rocker profile
Power/Tough Box construction
Vertical sidewalls and internal torsion box
Sensorwood vertically laminated poplar and beech core
Titanal reinforcement
Pretty solid widebody
Familiarity:

I've used it several times
My first real powder ski I went mid width wide and long (191) if I had to do it over (and I will do it over) I will go wider and shorter. I note this ski has done me well slaying steeps at Alta with 6"-8" but actually in deeper (12"+)snow I wish I had something a touch wider. Clearly a quiver ski for me and fortunately since I collect skis not cars or wives it's in the budget. I will add this, it carves surprisingly well on groomers if you can switch channels to classic old school 90/10 outside ski weighting.
Versatile Crusher
Familiarity:

I've used it several times
This is honestly the best ski I have ever skied. I have owned 15 different pairs of the popular skis over the last 3 years, demoed a few more, and these are hands down my favorite. I already owned the 184, and just stocked up on the 191 since they have been discontinued. They ski a tad short, but are still very stable skis and are a blast to rip around on. They are abnormally quick and forgiving for how fast they'll let you go..Volkl did an awesome job on the rocker profile. The 184 is a great daily driver, for days you like to get into the trees and bumps, mainly for western high snowfall areas. On bigger days here in the Tetons, the 191 should make the perfect steep and deep charger. My other deep skis are 190 Moment Bibby Pros, 189 K2 Obsetheds, and 196 Moment Governors, which will not be seeing as much time on snow once I get the big katanas mounted up.



To compare the 184 Katana with my previous favorite daily driver, the 185 Blizzard cochise from 2011 to 2014, its EVEN more versatile. That's saying something. I found it to be better on groomers, MUCH better in powder, and better in off piste crud and heavy, manky crust. The cochise has a drab feeling in powder, let's just say it got the job done but no more. The katana on the other hand felt awesome in pow. It has significantly more surface area in the tips and tails, which makes a huge difference. Once I got used to the katanas in moguls, and then i jumped back on the blizzards, the cochise just felt like it was going to always wheelie out from under me in bumps and landing small airs. The cochise is definitely a more forgiving ski, but the katana is still surprisingly good in tight spots.



Im wondering why Volkl discontinued this ski. It definitely wants a big mountain with lots of vert/fall line to ski down, and higher snowfall amounts, but I would be a loyal buyer every year. I'm sure I'm not the only one. The V Werks Katana is too lightweight for inbounds crud smashing here in Jackson.
My current backcountry ski is the line 105 186cm. Last year I mainly skied volkl shiro 193cm & now it's hard to go back to my 186cm. The shiro's are so fast I can't imagine skiing anything shorter. I'm 6'1" 190 lbs. & ski the steepest deepest stuff I can find in washington state. Steep chutes & bowls are my favorite. When hiking I look for the same terrain. Ideas on a BC ski for me? I am looking for a fast stiff directional ski.
Best Answer
Have you tried the V-Werks Katana? Carbon fiber is going to make that one lighter and stiffer than the standard Katana. Also, Volkl has a brand new collection this year called the BMT (Big Mountain Touring) series. Three different carbon fiber models - 94, 109 and 122 mm waists. They are also making pre-cut skins for all of their touring models.
I have the Katana, which I use for slack country touring, it is an excellent ski if you like to ski aggressively, if not it is going to be a very long day. It is incredibly stable and a lot of fun. The V-Werks version I found to have a softer tail which I didn't like as much (relatively). I tried the BMT skis at the end of last season, they were great to ride although I would probably go for the 109 for a touring ski, the 122 just seemed a little wide for touring to me.
I'm 5'8", 155 lbs, and a reasonably strong skier. However I don't charge hard like some of the young folks out there, at least not all of the time. Would the 177 cm suit me better than the 184cm?
Best Answer
Based, on what you are saying the 177 is probably the way to go. Because of the Rocker Profile of this ski the 184cm would ski be a great ski if you are skiing deep snow.
Great soft snow ski
Familiarity:

I've put it through the wringer
Some thoughts on the Katana, this was my first non traditional cambered ski, I bought the 184 cm and am 5.10 175 lbs. I was skeptical at first as much as i love to ski powder, realistically you have to do hard pack and ice sometimes to get to it. In this respect the Kantana does ok, but it is not a hard snow ski. It is not a one ski quiver. I have several Older Volkl's that are more stable and bite harder on ice and firmer snow. That being said, if it is semi soft , mushy, or powder, they rock! In powder the width floats the ski, and the reverse camber allows you to pivot quickly to change your line in the tree's. Keeping the skis flat effectively "shortens " their length. Yet magically when put back on edge they give a strong smooth carve and bite well. On soft groomers you can put them on edge and rail hard , they power right around and are a blast with a very smooth and predictable arc. Surprisingly also when you point them down to take a run out , they do not swim and chatter as you would expect with the reverse camber design,. There is some tip bounce and flutter, but they remain stable and solid. I could not find a speed limit on my local hill, and they put quite a grin on my face at speed! I made the mistake of letting my wife try them in 9" of fluff in the tree's and left over powder on mogul's, she described them as "skiing on velvet" so I guess I am looking for another pair! Highly recommended.
Deadly weapons.
Familiarity:

I've put it through the wringer
The Katana is the most aggressive big mountain ski I have ever skied. With the efficiency of an assassin they slash through the crud, the pow, and everything in between. These all mountain chargers are made to go hard and fast. Built so stiff that you will have to put some muscle into making them flex, but when you do the titanium reinforcement gives the Katana an amount of pop that no other stick in the Volkl line can match. This combination creates the incredibly responsive, faster than explosives, Katana ski.



With these skis the question isn't "Can my ski handle this?" the question is "Can I handle this?

And you better ask yourself that, because these might just kill you.
A true shred stick!
Familiarity:

I've put it through the wringer
This ski is awesome! I love how versatile it is, weather pow or ice this ski will preform. The little bit of rocker gives it a great feel in the pow but you'd never notice that it has rocker once on hard pack. This ski is however the more aggressive ski in Volkl's big mountain line as far as stiffness so be sure that's what you want. Rail Super G turns on groomers or smear some pow on this one.
...on a model from a couple seasons ago
Size up? I'm currently riding an old...
Size up?



I'm currently riding an old non-rockered Gotama in a 184. Considering replacing those with these but am curious if I should size up to a 191cm due to the full rocker these have?
Hey Jaxon,

You could definitely get away with sizing up to the 191. The full rocker will make this ski ski like a shorter ski, and I personally prefer longer skis for more stability at speed.
The Gotama has a good portion of less flex compared to the Katan: Unlike the G, the Katana comes with metal layers put into its planks; hence, unless you're a super charger with super skiing skills I would personally go for a 184. Moreover with their radius of 25.8 the Katanas are much more agile than the Katana 191 with its 28 radius would be.
Best Answer
I'm 6'4 190 pounds and the 184 is more than enough ski to head full tilt into any run
The 184 will be a way more versatile choice.
Would you recommend those for tree skiing?...
Would you recommend those for tree skiing? Or are they more effective on open space?
they are definitely a ski that likes to go fast, they may seem a bit clunky in tight trees
Best Answer
I find the Katana an excellent all around ski. For me, the tip and tail rocker makes for easy turns so I love them in the trees. Sure they respond to harder charging skiing but that's the reason they exist. You get to the bottom of the glade ,your heart is pounding and your face is grinning from charging it!
Fully agree with xcop. See also my comments on the Katana above. Maybe you should mind a too long version, but that does depend on ur skills. A Katana 191 is super stiff for two powder planks...
The 184 is very quick edge to edge and nimble. I ski them in the trees all the time. The longer versions are probably a bit too much work.