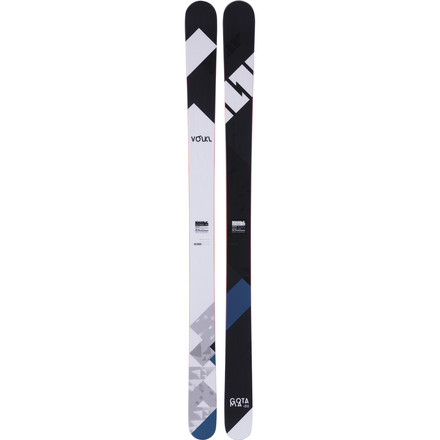 Community Images
Peanut butter and chocolate. Beer and pretzels. Ice and cream. Some things are too good to mess with, and you can add the Volkl Gotama Ski to the list. It's a big-mountain ski dressed up like a do-it-all charger, and it might well be the only thing you'll need to have in your quiver this winter.

At 107mm underfoot, the "Goat" is plenty wide for all but the deepest pow days, and it has the ELP (Extended Low Profile) rocker to prove it. The rocker profile is designed to compliment the ski's flex and sidecut, so it's incredibly easy to get full edge contact when you roll your ski up and try to lock into a turn. This makes the Gotama a serious performer on the hardpack, even though its dimensions would suggest it's more at home in the soft stuff. Of course, it still floats like a butterfly when you're in a pow-gobbling mood.

You can drive it hard no matter where you're riding, though, courtesy of a Power/Tough Box construction that uses stiff ash underfoot and lively poplar in the tip and tail, with a fiberglass and composite sheath around the ash for plenty of stiffness and power where you need it. This helps to prevent binding pull-outs, too, so you don't have to worry about hammering a turn and looking down to find that your ski isn't attached to your binding anymore. You won't find a tougher, more exciting do-it-all big-mountain ski around.

Extended Low Profile (ELP) full rocker profile
Multi-layer wood core (poplar tip and tail, ash underfoot)
Power/Tough Box fiberglass and composite wrap
Vertical sidewalls
Kyle, thanks for the info. How would you stack up last year's Gotama against Line's Mr. Pollard's Opus? Also, I'm an advanced / expert level skier and am 6'2 and 200lbs. What size do suggest I go?
I would recommend the Gotama in 186 cm although you could size up to the 194 cm (which we are sold out of). They will ski a little shorter than their true length due to the ELP (Extended Low Profile) rocker.



The Line Mr. Pollard's Opus Ski are quite a bit wider at 118 mm underfoot and you would want the 192 cm. The Opus has a shorter turning radius than the Gotama and is more of a true powder ski. The Gotama will be a better all-mountain ski that is wide enough for those deep pow days as well.
hi hi,
Has this ski been discontinued for 2016? If not, when will it be available for purchase? Thanks!
Volkl has stopped making the Gotama for 2016 and replaced it with the redesigned Mantra (100 mm underfoot) and the 100EIGHT (108 mm underfoot), new for 2016. We will be getting the Volkl 2016 Skis delivered over the next few weeks!



Contact me with any questions about Volkl Skis or if you are interested in a new ski set-up:

klivingston@backcountry.com

801-736-4337
Did not disappoint
Gender:

Male

Familiarity:

I've used it once or twice and have initial impressions
I demo'd this ski at Alta on March 13 in spring conditions. I'm 6'3", 220 lbs, and an aggressive advanced to expert skier. I skied the 186 on Marker Griffon demo bindings.

This ski lives up to its reputation as a big mountain charger! At 107 under foot, I was pleasantly surprised at how easy it was to lay them over and rip turns on the firm morning groomers. I was expecting the ski to be a little tough in the bumps because of the wider 107 waist, but again, I was pleasantly surprised by how easy it was to whip these skis around.

I spent most of the day skiing steep bumped up natural terrain. Snow was variable; chalky and tracked out at the higher elevations and mashed potatoes at the lower elevations. The extended low profile rocker allows these skis to accommodate a wide range of turn shapes and sizes. Straight lining it out the bottom of some of the runs was a blast! These skis are very stable at speed and I found myself going faster and faster as I became more familiar with them.

It's a relatively stiff ski for a wood-core with no metal. However, that imparts the ability to blast through tracked out crud without putting on the brakes and yet still have a lively playful feel when negotiating tricky terrain features.

I can only imagine how much fun these are on a powder day!

Although it's a big mountain powder ski, I found it to be extremely versatile and capable in the conditions I tested them in.

Here's the litmus test...

I originally planned to demo a few skis (Gotama, Mantra, Bonafide), but ended up smiling all day as I ripped around the mountain on these goats!

Demo them, you won't be disappointed. My next ski purchase for sure!
Great East Coast All-Mtn/ Powder ski!
Familiarity:

I've put it through the wringer
I've skied these in the trees, groomers, bumps, ice and even trolled the park with them and they are fantastic. absolutely no quality issues. I mounted them with marker dukes and it's a solid setup. Im 5'10", 160LB on the 178cm. Def wouldn't go any shorter.
Moved to Western Canada and in search for a new set of skis. I'm currently riding Atomic's Nomad Smoke Ti. Having skied the alps (Chamonix & Chatel) I've decided to make the move to a bigger ski. I now mainly ski Lake Louise and Kicking Horse, with the odd trip to Revelstoke / Fernie. I'm torn between the Volkl Gotama & Atomic Automatic 109 and was even considering the K2 Shreditor 112. Every time I visit the local ski shop I get a different opinion on what I should purchase.



I'm not the most aggressive skier, but definitely not tame (6 ft & 175 lbs). I enjoy skiing the glades, drops and deep powder but usually end up splitting my time 50/50 between on and off-piste. Considering my current Atomics are a pretty stiff ski I would prefer something a little more playful. I've never skied a fully rockered ski and am I little unsure of the Gotama for that reason, but don't see any reason why I wouldn't adapt.



Any advice/suggestions would be greatly appreciated!
first off, skis with full rocker construction behave a lot differently then cambered skis so i would try to test a full rocker construction before buying to make sure its your style.



My recommendation would be for the shreditor 102/112 or the gotama. In Canada your going to be skiing softer snow more often. Typically this means you want more upturn in the tip of your ski, and both the gotama and the shreditor have that. If you bought the atomic automatic I would be worried that all that camber in that ski would get frustrating in softer conditions.
Gotama core broke on first day
I've never seen a sky behave so poorly. After 1 day of skiing fresh powder, and I admit there were some rocks underneath, and branches in tree skiing, my son's brand new Gotamas looked like they had been skied on pure rock for weeks. I have older Voelkl skis, skied the same terrain, hit the same rocks, and had scratches - to be expected. His had scratches all the way to the wood core and cracks in the core and a bent out metal lining. When we took them to the repair shop, they were shocked. They had a lot of repairs in from that day, but nothing like that. Everybody who looked at the damage couldn't believe the base layer wouldn't have held up better, and how the core could break like that.

I tested it the next day and rented my son some Rossignols demo skis. We skied the same terrain, skied them hard, and guess what - just a few superficial scratches, while my Voelkls scratches were actually deeper than the Rossignols.

We're not trying to break a few pairs of skis here - I'm just upset by the supposedly high quality of my formerly favorite ski manufacturer.

Even my 2- year old skis are not what Voelkl used to be.

I'm not buying any Voelk skis anymore.



maybe the other users had better snow conditions. That's still no excuse for such lousy workmanship or materials. A ski is supposed to be able to take some abuse on ice and snow. I think that's what everybody would expect.



The Super 7 by Rossignol held up completely differently to the conditions. I'll keep testing this with other skis if I have the opportunity, but something is wrong with the Gotama manufacturing, or maybe this pair of skis is just a bad batch?



Anybody else have problems like that?
Looking for ski for when I go out West. 43yr, experienced strong skier, but not nearly as nimble in trees or bumps as used to be due to knee injury. Power is not an issue in crud or flats for me and like look of Gotama, but wondering if getting 178mm might be better than 186mm at this age if I want to retain some of the nimbleness I used to have in tighter spots. I'm 6'0 200lb for reference. I'd go Soul 7, but I think I'd just overpower them in crud, etc. regardless of length.
Best Answer
I completely agree with you about the Soul 7! I have the Gotama in 170cm and it is my favorite ski EVER! I'm 5'6, 135lb, grew up in Park City so I've been skiing forever... This ski definitely covers everything I think the Soul 7 is missing, just like you said.

The only time I think you would really need that extra length is when you are charging it at mach 10 or want a little extra float in deeper snow. But if reckless high speeds aren't your thing, then you should be fine on the 178! Especially considering prior knee injury - that shorter length will be much more maneuverable in those conditions.

This ski is fully rockered, so your effective edge feels a bit shorter on hard pack. On the other hand, that's a lot of ski to move through tight trees.

Bottom line, the difference is small enough that you really can't go wrong. If you want to err on the side of caution (maneuverability), then go with the 178! If you think you'll want that extra float in deep snow and stability at high speeds, go with the 186!

Shoot me an email if you have any questions!

LFeasler@backcountry.com
Aside from width, the Gotama and Soul 7 have absolutely nothing in common. The Soul 7 is a gutless wonder with cardboard tips & tails and a "hinge" point in the shovel that leads it to simply fold in half in chop, and that's under my 160lbs. The Soul also has substantial amounts of camber, which don't help it carve competently on hard snow (see cardboard tips/tails), but do drastically limit the ski's float & ability to pivot in soft snow. The Gotama has none of these problems. It is a substantial ski with the power to bust crud, but full reverse-camber & no metal means that this is a ski with a soft-snow bias.

Kudos to Laura F for not propagating the Soul 7 hype. Those waffle tips look pretty against a backlight, but I wouldn't even hamper a progressing intermediate with such a gutless, flawed design.
all around banger
Familiarity:

I've used it once or twice and have initial impressions
I only had one day on these skis, but they were the easiest pair to become familiar with in all my experience. I skied the 186. Not using skis with a turn radius as tight as these, I was very surprised as to how quickly they turned, super responsive. They weren't ideal for long turns at high speed, but for anything in the mid-turn range, all the way to tight quick turns, they handled extremely well. I also skied on these on a groomer day...so didn't get to ski them in anything deep.



They're super fun, and I definitely recommend them to any level of skier.
Deciding on size. I'm 6'0" 175lbs. I ski the B/L Cottonwood here in Utah. I'm aggressive and can handle blacks just fine but still learning how to charge hard. Should I go 178 or 186?
Best Answer
Wooooo LCC/BCC! I'd go with the 186! On hard pack, they will ski a bit short because that full rocker shortens your effective edge. And that extra surface area will keep you afloat in deeper snow! Plus that will give you more stability when you are charging. I think you would just out-ski the 178. This ski is AWESOME! Send it!
Hi, is this Gotama better all-mountain (pow preference) that Rossignol Soul 7 ?

Because i want light, forgiving and playful all-mountain ski - especialy for pow and I've been thinking of a bunch of skis and Gotama and Soul 7 is the best I think . Winter is coming so please help me with decision.
Best Answer
Gotoma has been a proven winner for many years and see them all over the place which always says something. Rossignol Soul 7 was the hot ski last year and is on the track to repeat that again this year.



Gotoma will be a stronger overall ski and has the ability and construction to charge and play harder all over the entire mountain. Where as the Soul is the true super light, forgiving, and more playful ski.



With your exact comments from above I think it would be hard for anybody not to recommend the Soul 7 for you. The Soul has its speed limits and crud busting ability is not on par with the Gotoma so only you know what conditions you like to ski and how aggressive you approach your day on the mountains.



Good luck and keep us posted.


I own a pair of Gotamas (purchased 4 years ago) and have skied the Soul 7s two times this year. The Goats are for very strong hard charging skiers that thrive on aggressiveness. I would not describe them as playful at all; the sidecut is not pronounced, so they want to go straight down the mountain. The Soul 7s, are the opposite--they are light and feathery and want to be 'surfed'. Even if you're a little back seat, these skis won't punish you like the Goats.



I'd agree with the previous poster, the Goats will bust through any crud and go faster than the Souls. But for softer snow, the Souls are just way more fun.
Somewhere in there you'll find a Gotama.

Pow ski of choice for skier Ty Peterson!
Skier Ty Peterson in action while ski patrol assists with a flash!
Where are these skis made? My old gotes are made in China, have they started making them in Germany?