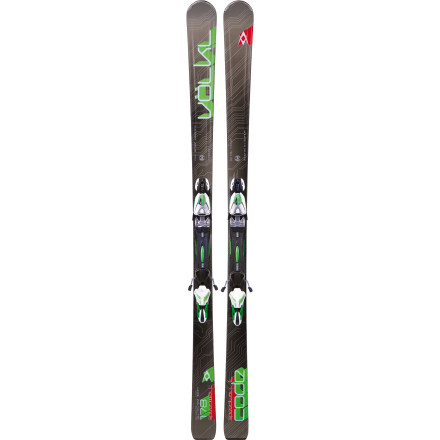 The Volkl Code Speedwall Ski with RMotion 12.0 D Binding is all about carving intense turns down groomers. Wider underfoot than a racing ski, but not by much, the Code Speedwall makes nice to your inner speed demon.
The Code's tip to tail rocker profile uses a traditional camber underfoot that offers carving ability akin to the new Japanese chef's knife you just bought. It offers the most edge-snow contact for intense and controlled turns, even on crudded-up groomers. The raised tip and tail help this ski move through some powder, so you can take a brief foray into the trees when your curiosity gets the better of you.
Borrowing technology from its racing skis, Volkl included deep side-cuts and waxable sintered sidewalls on the Code Speedwall. Deep sidecuts let you lay an edge into rocket-proof hardpack, and the composite sintered-base sidewall reduces friction between your ski and the snow. Sign up for the locals-only race series or bet your kid a week's worth of chores that you'll win nine times out of ten when you rock the Code Speedwall down your resort's racecourse.

Dig further down, and you'll find traditional sidewall construction, enhanced by a bit of metal. Both atop and below the Sensorwood core are thin sheets of titanium alloy, reinforcing and further stabilizing the ski. The Sensorwood core is vertically laminated beech and poplar wood.Vertical lamination provides longitudinal stability, while torsional stability comes from the metal supports and fiberglass wrapping.
Despite engineered stability, there are no guarantees you won't end up at the bottom of an ugly yard sale. The rMotion 12.0 D binding sports Marker's proprietary Biometrix Pro 4-Linkage toe technology just in case you bite it, and hard. Basically, falls happen in every which way, and the toe of this binding is designed to release your boot when you fall every which way, and then some.

Tip and tail rocker
Power Construction (traditional sidewall)
Titanium alloy reinforcements
Speedwall technology (composite sintered base sidewall)
76mm underfoot
46mm sidecut
Includes rMotion 12.0 D binding