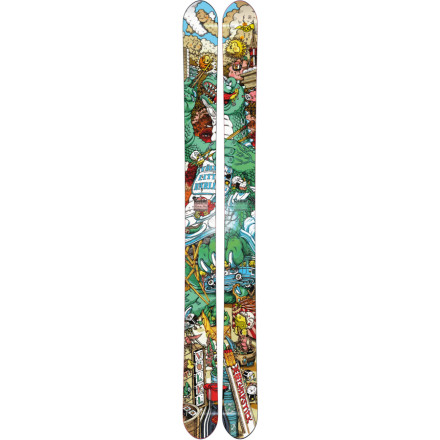 The Volkl Chopstick Alpine Ski has twin-tip ELP Rocker to let you float, charge and smear your way through two feet of fresh, then head out to hit big backcountry booters after the lifts close. Thanks to the Chopstick???s twin-tip symmetrical design, you???ll find yourself popping and spinning off natural features you never knew existed, while the multi-layer Sensorwood core and stabilizing Power/Tough Box construction bring the meat to back up your biggest lines. Extended Low Profile Rocker ensures the tips and tails stay on top of the deepest of deep fluff, while the Chopstick???s girthy dimensions and minimal sidecut help you stomp big drops and switch landings with confidence. Because the ELP Rocker starts closer to the ski center and has a more gradual rise, the Chopstick lays down its entire edge on groomed snow, meaning you can shred these symmetrical skis through the park between storms.
You Like Pow? Then Here Ya Go....
Rules in soft snow and no jokes on that. The Volkl Chopstick Alpine Ski is fat enough (128mm waist), soft enough (noodle is good word for the flex pattern) and has the camber ("0" positive camber in the middle a.k.a. flat, to equal amounts rocker in tip and tail) to be a soft snow dominator. The structure also gives an easy spin weight for booters.



One thing though, no hard snow unless you have a super relaxed ski style. Attempt to really push into a hard chop, high speed turn and your skeletal system will resemble a tuning fork being hit by a tack hammer.



Overall, if everything you are is soft snow conditions, strap on a pair of Volkl Chopsticks and you won't be disappointed.
I've got a pair of chopsticks with a cheap...
I've got a pair of chopsticks with a cheap set of bindings. I'm looking to upgrade to some alpine touring bindings. Any suggestions on a solid bang for my buck binding that has big enough brakes to handle to chopsticks?
Im 5'6 expert skiier what size would be...
Im 5'6 expert skiier what size would be im guessing the 175 whould fit better. Whould the chopsticks be too fat for a all mountain ski?
Hi bryden vaughan,

Thanks for your question. When it comes to sizing up the Volkl Chopstick Alpine Ski, the 175cm would be a good choice for you especially if spin weight is a factor. As for it to be an all-mountain ski, I wouldn't be as worried about the Chopstick being too wide as it does rather well for its girth. I would be more worried about the flex pattern being too soft for hard snow. If you like riding a bit more of a soft ski in most conditions, then by all means fire away on this ski. If you like a bit of a stiffer feel for harder snow, you may want to look at something stiffer such as the Volkl Shiro or Gotama.
Mount the chopstick at the middle
I just picked up the 185cm and mounted 1cm behind dead center. I skied Alyeska this weekend in 4-5" powder and crud. They smoked the whole mountain. They float over everything and ski really really fast. I did a bunch of research for where to mount them and the general consensus was dead center/-1cm. Just like the Volkl pros recommend. I mounted them back because I don't ski switch or spin alot and I'm happy with it, but I think a center mount would ski great too because it's at the narrowest point of ski and the middle of the flex pattern.
this is a typical Vokl ski, you have to ski them hard and fast and stay on top of the ski, you cannot let the ski take you, you have to force it. I live in Alaska and this is the perfect big-mountain powder ski, I love it...
Best ski I have ever owned hands down I am trying to find a replacement for my prototype 185's but can't find anything. I have even been talking to folsum on having a set made for but it will run me around 2grand. Maybe I should just wait and order a new pair for next season.

I have the 185 and last years 175, wish I would have bought 185's last year because the 175 is just to damn small. Im 5'8 185 26.0 boot. I ran jesters, and dukes on them and much prefer jesters.
i will see these skis mostly on powder but...
i will see these skis mostly on powder but once in awhile on groomers. how do they do on groomed runs?
they would do well on groomers
Best Answer
They do not do well on groomers. They ski the best on deep powder and soft snow. This is a pure powder ski.
I've had the chopsticks for the past two seasons and they do surprisingly well on groomers. Though be prepared for a little chatter as they are a very soft ski.
How much do the 2011-2012 185 chopsticks...
How much do the 2011-2012 185 chopsticks weigh? Also Im stuck between the chopsticks, the armada ARG and the newer Hellbents and suggestions?
Thanks, Ryan.
supposed to say any* suggestions
supposed to say any* suggestions
I'm not sure how much the ski weighs, but I own them and can tell you they are super light considering their size. The bulk of your weight will come from your binding choice, the skis themselves are very light. I love my chopsticks, I have last years model but this years is unchanged (with the exception of graphics.) They absolutely kill in pow and are still stiff enough to ride crud and drop big cliffs. And I live in New England, so 60% of skiing up here is crud and groomers. A nice all around ski, would definitely recommend.
Consider the Praxis powder boards. praxisskis.com
I picked these up a few weeks ago, and used them yesterday for the first time. They slayed 3+ feet of fresh pow like nobodies business. This is my first fat ski, and the first rockered ski I've ever used. I got the 175's, I mounted Marker Griffons at +2, and I'm impressed. The longest, and widest ski I've ever used. Burly enough to huck anything, but quick enough for North Eastern trees. 09/10 Chopsticks.
skied these for a day at alta. refrozen crud with some windblown powder.

these skis were a little confusing. they didn't stand out at anything but they didn't fail at anything either. they could rail a turn on groomers, play in the pow and pop off anything. there was something kind of off about them but I don't know how to describe it.
I would try these before you buy them.
Do These Perform Well On Groomed Snow?
Do These Perform Well On Groomed Snow?
They perform surprising well on groomers, for a rockered ski. Carving is a little tricky at first, but if you've ever skied a wide ski you'll be fine. They are definitely stiff enough to handle crud and groomers.
If you lay this thing over on edge it will turn like no other. It was my everyday ski in colorado for two season 90+ days a season.
Can i use these skis for Currves (turning...
Can i use these skis for Currves (turning right and left) , STOP, and can i use them as a beginner freestyle?
These skis would not be good for beginners. These skis are for huckin cliffs in the deep pow,backcountry,and skiing monster lines. I you are a beginner looking for a freestyle ski, i suggest looking at an all mountain twin tip because those carve well for turns and can be good for freestyle.
Thank you, so these skis are just for powder?
i really dont know whats the different between backcountry, freeride, and all mountain?
which ones are good for curves and easy to stop and can be used for freestyle.

and please where can i find skis that fit me, i need 150, can you help?
If you're looking for a nice pair of ski's for a beginner, you want ski's that won't hold you back in a couple of seasons (not all of us can afford new set ups every year), so look into (as said above) some twin tip, mid length, all mountain ski's. I started on Armada ARV's in a 185 (wayy too long for most beginners) but I picked it up pretty quick.

I'm not sure if they still make Solomon Foils in a 166 but i have some friends who learned on those and we bust them out for fun.

Just make sure you don't get jipped into ski's specifically for "beginners" likes the K2 Force. They'll just be a waste of money in the long run.
Is volkl changing the design on next years...
Is volkl changing the design on next years model ?
I do not believe so, and if at all maybe just the graphics
Best Answer
The chopstick will stay the same, just the graphic will change. If you are looking for a newer powder ski. Look for the Shiroa.
When are these going to go on sale ?
When are these going to go on sale ?
Hey Brennan,

It's hard to say but we do have a Semi-Annual Sale coming up that you'll want to keep an eye out for.
I need a ski with 25% crud 25% groom 50%...
I need a ski with 25% crud 25% groom 50% powder would this ski work well, also how do they compare to armada jj, obsethed, and moment bibby.
The armada jj would be a better bet for a all mountain ski get the 165. The obsethed have, to much rocker for an all mountain ski and so little camber it would be to much for you! I dont know much aubout the bibby but the sethed would be a better bet!
how would this fit me if im 5 ft 3
how would this fit me if im 5 ft 3
175 would probably work fine, but don't fear the 185, especially if you plan to center mount
Best Answer
Do not go larger than a 175.
Read many reviews, and wondering is this...
Read many reviews, and wondering is this ski good, or bad on groomers or crud.
Best Answer
this ski is good on groomers and in crud
This ski works the best in powder. It can ski a groomer, but it's not the best Volkl ski to be on a groomer with.
SO fun in soft/smooth/heavy/light POW
I love these skis. They excel in certain conditions (for me, at least)--all types of powder, windbuff, corn, or any kind of soft/smooth snow. It took me about half a day to feel comfortable on them, and then it was like being in a video game--the control and float and responsiveness are amazing and so so fun and playful. My favorite "powder" ski for sure.
I own the 09/10 chopsticks. It is not my first reverse camber powder ski. My opinion is that this ski and the K2 hellbents are polar opposites, as far as feel goes. The chopsticks rip through every condition. The thing that amazes me the most about the chopsticks is how well they perform on groomers, considering the waist width. They are, of course, best in deep powder. I have done a few straight lines over giant bumps, and the chopsticks felt very stable! I am baffled by anyone who can accuse these skis of performing like a noodle and then offer the hellbents as a better alternative! The bottom line is that the chopsticks will perform best for you if you have a very "forceful" style, where you push your skis around rather then relying on them to make turns feel easy. They have made me feel much more stable during straight lines and cliff drops. I feel like they force me to stand up if I land in the back seat. My advice: demo and decide for yourself. I think that Volkl meant for this to be a jib ski.