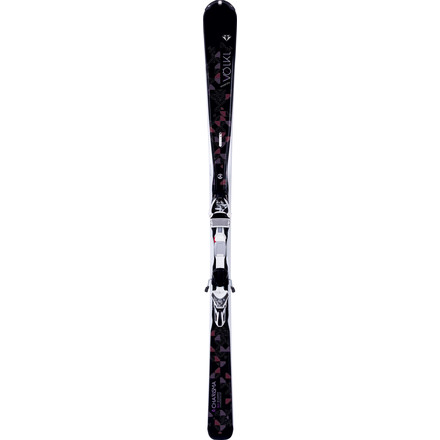 Description
Skiing's meant to be fun.
Plenty of skis are drab, boring planks that might be OK to ski but are missing the zip, vigor, and pizzazz that make the Volkl Charism Ski with the iPT eMotion 11.0TC so much fun. Rather than shrinking and re-painting a men's ski, Volkl used Bio-Logic technology to design the Charisma especially for groomer-loving ladies who like to venture off-piste every once in a while. It has a flex that's designed for easy and consistent turning, a geometry that helps you start and finish turns with smooth precision, and a stance that relieves pressure on muscles and joints, helping you stay stronger and injury-free. There's traditional camber underfoot for edge grip, but a rockered tip that smooths out rough snow for a fun, easy ride.

Of course, the Charisma loves to carve, and boasts Double-Grip XTD sidewalls which are extended upwards, allowing for stronger edge hold and better power transfer into every turn for that fun, zippy feeling. It's light, too, with an Xtralight Sensorwood core that's stiffened up with a steel stringer for a ride that's fun, poppy, and predictable, but with enough power that you can make aggressive, edgy turns when you're feeling like going faster than usual. It comes with the Volkl's iPT eMotion 11.0 TC binding, too, which has a DIN range of 3-11, so you won't have to waste time at the ski shop getting ready for the season.

Rockered tip with traditional camber underfoot
XtraLight Sensorwood wood core with a steel stringer
Double-Grip XTD sidewalls
Bio-Logic women's specific flex and geometry
iPT eMotion 11.0 TC binding
DIN range of 3-11
Short turning radius
Hi there,

These are the 2014-15 model
Unanswered Question
I have demoed these skis a few times. I was given the 149 previously, I think it was good for length but would say I felt a little less zippy in them. This past week in Whistler I skied the Yumi in a 154. Really did not like the tail on the Yumi but the length felt great! I am certain I want to purchase the Charisma now but am undecided on the length. Thinking I should go up to the 156 given I really liked the 154 length in the Yumi. Would this be a fair comparison for choosing the right length? I am 5'5" and 130lbs. I am an intermediate-advanced skier who likes to be in control, enjoys carving at moderate speeds but love a mogul run, or some fresh powder when Mother Nature is generous. I would appreciate advice as I am not going to get the chance to try the charisma 156 this year and would like to purchase for next year.
Demoed the Volkl Charisma in a 156cm and oh goodness this is an awesome ski. Likes my tight turns, is easy to maneuver and bites into the ice like a rabid dog. I am thinking I will buy the Charisma and use it as my ice ski or if its just been cold and not snowed in a while. Same question with these. These will be my carver ski and I love them in a 156cm. My height is 5"6" and my weight is 175. Height says the 156cm is fine but my weight says I should be on a 163 which I think is just long for me. What if I lose the weight. I am comfortable in a 156 and it feels great to me, do I really need to go longer. Maybe I will have my carver be the Charisma in 156cm and get the Kenja for my all mountain ski in a 163? Is it better to have the carver be a little shorter. Just don't want to buy skis after this for a bit so trying to do it right this time :)


Best Answer
For your height, I would go 163 in any of those (traditional camber, rocker).