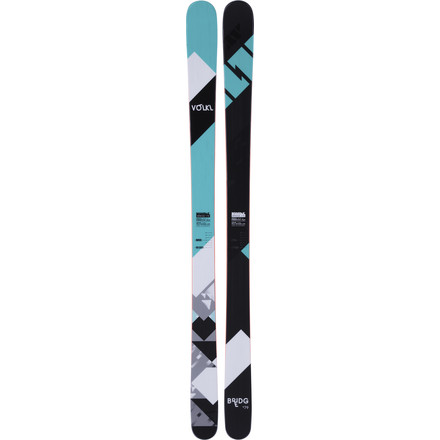 When the day calls for a little bit of powder skiing in the morning, some groomers around lunchtime, and an afternoon session in the park, strap on the Volkl Bridge Ski and quit wasting time thinking about what to do. As the name suggests, the Bridge is made to handle everything on the mountain, with a fully rockered profile to surf through powder and cruise over bumpy terrain, a poppy poplar-and-ash core to boost in the park, and Volkl's Power/Tough Box construction to power down big lines without feeling squirrely. At 95mm underfoot, it's big enough to float but small enough to be nimble, with a torsion box, vertical sidewalls, and a fiberglass and composite laminate that let you push the speed limit on big terrain.

While ash underfoot is nice and stiff for control and improved binding retention, the poplar is located in the tip and tail to provide loads of pop when you're jumping off things in the park or the middle of your line. And, while the Bridge is fully rockered, the sidecut matches the rocker profile so you have all the edge contact you need to rail groomers and handle hardpack with ease. Smooth, playful, and powerful, it's a quiver of one that just won't quit.

Full rocker profile
Multi-layer poplar and ash core
Power/Tough Box construction (torsion box with vertical sidewalls)
Fiberglass and composite laminate
Great All Mountain Ski
Gender:

Male

Familiarity:

I've put it through the wringer
I have skied these for the last few seasons as my daily driver back East. These are a fun, lively, stable ski. They are equally happy smearing turns or railing large arcs. They definitely ski a bit short because of the full extended low profile rocker and the upturned tail. They initiate turns effortlessly and the more you lay them over the better the edge holds. They are stable at speed and like to go fast. I spend a lot of time in tight, steep, trees and they are very happy snaking their way down the hill. They float great in powder and have a fun surfy feel. They also handle tracked out crud decently although occasionally you'll have to slow down a bit otherwise the ride can get a bit rough. I recently took them out West to Utah and skied them at Alta and Snowbird and they performed excellent in variable spring time conditions on steep bumped up natural terrain. Overall I have been very happy with these skis and would recommend them to any intermediate to advanced skier looking to ski a wide variety of both groomed and un-groomed terrain.
Unanswered Question
Hi, I am about 5'5", 140ish pounds and was wondering if 163cm would work for me or what you would suggest. I am an intermediate to advanced skier, probably more advanced than intermediate. Also, are these a gender neutral ski or are they geared more toward men or women?
Unanswered Question
Hi

I am an intermediate skill skier and have only had 1 full season but i am lucky enough to have a seasoned skier teaching me and have improved vastly over a short period. I live in New Zealand and the snow changes from day to day (Mt Ruapehu) I am looking to do some off track skiing, most of the time on groomers but looking to have versatility across the board to be able to do everything. I am 176cm tall and weigh 176 lbs. Would these be something that would suit me. This will be my first Ski purchase
One Quiver Ski
Familiarity:

I've put it through the wringer
This is as close to a one quiver ski as I have found. It skiis small because of the full rocker so it is nimble in the bumps and stable on groomers. Where it really excels is in the powder. You don't need 110 under foot to make a great powder ski, you simply need a ski that refuses to stay bogged down. This ski finds it's way back to the surface regardless of how deep the pow.
Hey, I'm thinking of the 171cm me, I'm 5'9" and 170lbs, advanced skier, skiing aggressively on the front side and looking to ski more off piste and get into the backcountry. Does anyone have any recommendations?
See my review for more details. The skis ski short. I am 6' 0" 185 lbs. and I use the 179 cm and love them.
I'm having a hard time on making my first ski purchase!



I'm 6'2", 190 lbs. Level 7. I ski mostly front side, starting to get into the trees and I want to start exploring the back side of the mountain this year. I really am all over the place; I just moved near the mountains so my ability level is increasing quickly with the amount of days I'm able to ski now.



I live in Colorado near Summit County, so I get a decent number of powder days. I don't ski park but I'd like to start playing around with skiing backwards and maybe have a little edge in the trees/moguls.



Would this be a solid all-around ski for someone of my ability?

I think the fattest I've skied on is a Kendo or E88's and I wasn't too happy with how they performed in the deeper stuff or in the trees.



Length recommendations? Any recommendations?



Thanks!!
Hey Taylor,

This would be a great all mountain ski to progress your skills with. This ski will ski all conditions from hardpack to crud, and powder well. The full rocker will help this ski to float well in the fresh stuff, while the 95mm waist will still allow the ski to transfer from edge to edge quickly.



This ski would ski well in the trees and bumps and would feel best in an open bowl with lots of fresh snow. The size that would work best for you would be the 187cm. With full rocker this ski will ski slightly shorter than a traditional camber ski so you will be able to turn it quickly, making it a great all mountain learner.



Some other skis to consider would be the Moment Tahoe ski. That ski would offer similar dimensions and has rocker in the tip and tail to help it float well in pow. It would be a little better ski than the Bridge for skiing switch and for park riding. You would need the 186 in that ski. Another awesome ski to consider would be the Line Blend ski. That ski has a little rocker in the tip and is traditional camber down to the twin tail. It would ski the park well and would ski all over the mountain just as well. It is also the widest option and would float well in the pow. And finally you could check out the Salomon Rocker2 100. That ski also uses rocker tip and tail to help it float well and has traditional camber underfoot to help it edge well on harder snow.



Feel free to contact us via live chat or by calling 1-800-409-452 for help with more options or any questions you might have. You can also contact me directly by shooting me an email at dbennett@backcountry.com.
I am a little bit over 5'4 but I am hitting my growth spurt, and I was wondering whether the 171 was going to be too big for me?


Hey Jonathan,

Depends on a few more factors! I wouldn't rule it out just yet.

How much do you weigh? Where are you planning on skiing mostly? Are you beginner, intermediate, or expert?

This ski has full reverse camber as well as twin tip, so it your effective edge is shortened. I am 5'5 135lb and I ski the 171 as my all mountain ski.

Hit me up if you have any more questions! LFeasler@backcountry.com